Briefings
Record Set as 39,216 Attend UW Fall Quarter
A record 39,216 students came to the UW's Seattle campus this fall, breaking the previous record of 37,547 set in 1979, the UW admissions office reported Oct. 16.
To conform to federal reporting guidelines, the UW now includes non-matriculating students in its total enrollment, says Assistant Vice President for Enrollment Services W.W. "Tim" Washburn. Adding these 1,436 students put the total enrollment numbers far over the record (and last year's 37,412 students).
"These new numbers reflect the actual number of students being served on the Seattle campus," Washburn explains. Non-matriculating students are not enrolled in a degree program and allowed to register only after all other students have made their selections. Often they are adults living in the community who are upgrading their job skills or taking electives for personal enrichment on a part-time basis.

The other two UW campuses exceeded their enrollment targets, with UW Tacoma drawing a record 2,111 students and UW Bothell close to a record with 1,636. Washburn said other state schools also report high enrollments, reflecting the demographic bulge in 18- to-22-year-olds and the fact that a weak economy is driving high school graduates out of the job market and into higher education.
This means the pressure to enter the University is greater than ever. Applications for the freshman class totaled 15,630, an increase of 966 over last year. Yet the UW had to keep its freshman class small-4,846 students, down 536 from 2001.
Last year many more freshmen came to the UW than expected-putting a strain on class size and course offerings. To avoid more overloads, the UW purposely kept this entering class smaller and used a waiting list to make sure it was not overenrolled, Washburn says.
These entering freshmen matched other classes' academic standards with an average 3.66 G.P.A. and 1168 SAT. But they faced a 16 percent increase in tuition: $4,167 for residents, $14,868 for non-residents.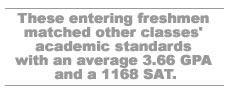 Washburn is upbeat about the diversity of the entering freshmen. About 39 percent (?) are students of color, and for the first time, some under-represented groups exceeded enrollment totals set in 1998, the year before a statewide initiative prohibited public universities from using ethnic and racial factors in their admissions decisions.
Both African Americans and American Indians exceeded these 1998 levels. There are 138 new African American freshmen and 59 new American Indian freshmen. Two other under-represented groups-Latinos and Hawaiian/Pacific Islanders-were still under 1998 levels with 178 and 23 respectively. Both totals were down from 2001.
Washburn credits the outreach efforts of the UW and community groups such as the Breakfast Club with increasing the number of African American applicants. Programs such as the Costco Scholarships give many of these students a financial incentive to come to the UW. He adds that the UW has two full-time recruiters in central Washington that he hopes will boost applications from Latinos living in the state.
While the enrollment numbers are above 1998 totals for two groups, Washburn says that the proportional percentages are still below those from five years ago. This is because of the larger overall size of recent freshman classes. "We still have a way to go," he says.
About 26 percent of the total enrollment consists of students of color, he adds. There are slightly more women than men (52 percent), and there are 28,362 undergraduates and 10,854 graduate and professional students.
A little over 18 percent of the freshman class are from outside the state of Washington. The UW is currently working with state agencies to tighten residency requirements, Washburn says. It is likely that students taking more than six credits will not be able to count that time when fulfilling their one-year residency requirement.