Briefings
Neuheisel Penalized for Rules Violations at Colorado
UW Football Coach Rick Neuheisel has been prohibited from off-campus recruiting activities until May 31, 2003, and his former employer, the University of Colorado, was placed on two years probation for 51 recruiting violations that occurred during Neuheisel's four years as head coach at Colorado, the NCAA announced Oct. 8.
Colorado, where Neuheisel coached from 1995-98, also had its scholarships reduced by five and had its recruiting visits restricted.
After a three-year investigation, the NCAA's Committee on Infractions found that Neuheisel repeatedly broke recruiting rules while at Colorado, and that the institution failed to monitor his activities.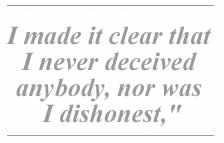 Neuheisel, who left Colorado to become Washington's coach in January 1999, testified before the NCAA in August. "I made it clear that I never deceived anybody, nor was I dishonest," he said. "I thought, very honestly, I was acting within the rules. I was trying to-as the NCAA likes to put in quotations-to be creative, and find ways to win recruiting battles legally."
Most of the violations involved illegal contact with 26 athletes-called "bumping"-during periods when the NCAA prohibits coaches from contacting athletes in the spring. While bumping is considered a secondary violation, the number of incidents constituted a major violation, the NCAA said.
When Neuheisel met with the NCAA in August, he characterized the incidents as inadvertent and widespread in recruiting. But the NCAA infractions committee rejected his explanation, noting that one former assistant at Colorado said he had "compromised" his integrity by "simply going along with the culture that was out there."
Neuheisel, who typically visits between 30 and 40 homes during a recruiting season and is known as an exceptional recruiter, said he wouldn't appeal the ruling. He also said he believed the NCAA was making an example of him.
"I don't think there is any question that is what the committee decided to do," he said. "If that's good for college football, so be it."
Meanwhile, Cameron Dollar, the top assistant to UW men's basketball coach Lorenzo Romar, was suspended for one month without pay and banned from all fall recruiting and any off-campus recruiting until July 2003 for committing at least 28 recruiting violations, UW Athletic Director Barbara Hedges announced Oct. 2.
Dollar was cited for repeated improper contact with high school athletes during "dead periods" when contact is prohibited. Reprimands for minor recruiting violations were also issued to Romar, assistant coach Ken Bone and Lance LaVetter, the UW's director of basketball operations.
Dollar, who was an assistant to Romar at Saint Louis University before both joined the UW this past year, was cited by the UW as "an overzealous recruiter who stepped over the line" largely in pursuit of two state prospects. Revelations of Dollar's infractions came to light when coaches at Gonzaga, Washington State and Eastern Washington complained to UW officials.