Briefings
McCormick Leaves, Regents Name Provost as Acting President
Richard L. McCormick announced Oct. 25 that he will resign as 28th president of the University of Washington to assume the presidency of Rutgers University on Dec. 1.
The UW Board of Regents met Nov. 5 to name Provost Lee Huntsman as acting president. Huntsman, 61, a bioengineering professor who joined the faculty in 1968, has been the UW's chief budget and academic officer since 1997.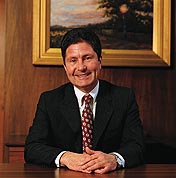 ---

Former UW President Richard L. McCormick. Photo by Mary Levin.

---
McCormick's announcement was unexpected, since earlier he had withdrawn from the search for a new president at New Jersey's state university. But he has close ties to Rutgers. He grew up near the campus, where his father was a history professor and his mother was an administrator. After graduating from Yale, he spent his first 16 years as a professor and administrator there and even team-taught one history course with his father. He also met his wife, Suzanne Lebsock, at Rutgers when both were on the history faculty.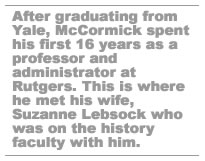 In explaining his decision, McCormick said the pull of Rutgers was too much to resist. "I'm a loyal New Jersey son who grew up along the banks and within the culture and communities of the state's flagship public research university," he said. "I love Rutgers and I am honored that my family and I have been a part of its long and distinguished tradition of excellence. I look forward to coming home."
In a statement release by the UW, he added, "It is very difficult to leave the University of Washington. It is a great university, one of America's best, and the people here have been wonderfully supportive of me and my family."
McCormick's salary will jump from $295,000 to $525,000 a year. Rutgers serves a student body of approximately 50,000 at campuses in Camden, Newark and New Brunswick/Piscataway.
Press reports in New Jersey said that a possible merger between Rutgers and two other state institutions might have made a difference in McCormick's final decision, and that he will be a leading candidate to preside over the entire system should the merger take place.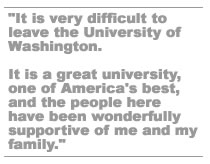 McCormick came to the UW in September 1995, after a 14-month search to replace President William P. Gerberding. "His seven years at the University of Washington were characterized by a culture of innovation, a commitment to diversity, a willingness to manage for change, revitalized communication with the University's many constituents, and significant aspirations for the future, all this in a time of severely constrained resources," said President of the Board of Regents Jerry Grinstein.
In an interview with Columns on his first five years in office, McCormick cited some of his accomplishments. He said he was proud of the "massive integration" of the UW's teaching, research and public service missions and a shift from the UW's relative isolation to "a much greater outward orientation" toward surrounding communities.
He used to tell audiences, "We are not the University of Seattle, we are the University of Washington," and then list the many statewide programs of the institution. After the June commencement ceremonies, he would tour the state with a busload of new faculty members to introduce them to Washington communities and their problems.

He was also proud of reforms in undergraduate education. He led efforts to boost the six-year graduation rate, which rose from 67 percent in 1995 to 72 percent in 2000. He also encouraged undergraduate participation in research and was proud that 24 percent of graduating seniors reported participation in at least one research project while studying at the UW.
Under McCormick's tenure, the UW's research and private giving totals hit new records. For 2001-02, research drew more than $800 million and private giving attracted $239 million.
But the departing president also suffered some setbacks, such as the crippling of affirmative action programs with the passage of I-200 in 1998 and the continuing decline of financial support from the state. The state's projected $2.5 billion budget deficit could make the UW's financial health even worse next year.
McCormick's departure is the first time a UW president has left for another university in 50 years-the last time was when Raymond Allen left for UCLA in 1952.
McCormick's seven-year term is longer than the average time university presidents in the U.S. stay at one institution-under six years-but shorter than some recent UW presidents. Charles Odegaard served for 15 years (1958-1973) and William P. Gerberding served a record 16 years (1979-1995). John Hogness served for almost six years (1974-1979) before leaving to become president of the Association of Academic Health Centers in Washington, D.C.
Acting President Huntsman received his Ph.D. in bioengineering from the University of Pennsylvania in 1968 and immediately joined the UW faculty. His research specialty is the mechanics of heart and heart muscle, cardiovascular system assessment and new measurement techniques. In 1980, he was named director of the Center for Bioengineering, a unit of both the College of Engineering and the School of Medicine. He held that position until his appointment as provost.
At its Nov. 5 meeting, the UW regents also named retired Forest Resources Dean David Thorud as acting provost, a position he held previously from 1994-96.