Our Back Pages
Adios, Hello Lane
It's an old axiom-the bigger the city, the less time people take to notice each other and say hello to strangers passing on the street.
As the University of Washington grew by leaps and bounds in the 1930s, many students experienced this phenomenon first hand. One effort to make the urban campus a friendlier place was the creation of "Hello Lane," a short, wooden walkway that appeared in the late '30s connecting engineering campus and the Quad, through a parking lot located at what now is the Grieg Garden.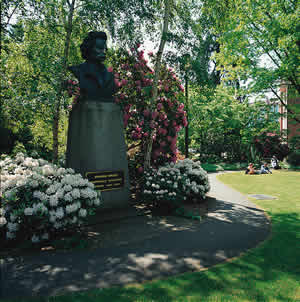 ---

Greig Garden blooms on what was once the site of Hello Lane. Photo by Kathy Sauber.

---
While not many people remember Hello Lane today, those who do, recall it with a smile. The idea was simple. Students passing each other on this sidewalk were encouraged to greet each other. "It was a place where it was socially acceptable to say hello to someone who attracted you," recalls one alumnus.
The wooden passage was probably built by the Works Progress Administration, the federal program that carried out public construction projects as part of President Franklin Roosevelt's New Deal. The WPA perhaps had some leftover material to use for side projects, one of which might have been the walkway, explains Duane Matterson, who graduated from UW in 1942. A "Hello Lane" sign appeared soon thereafter.
Many students, like Robert Hoxsey, '41, didn't pay any attention to Hello Lane or dismissed it as a silly venture. But Matterson does remember people greeting each other while strolling toward the HUB.
The novelty didn't last very long, however. After being up for only a couple of weeks, someone added an apostrophe to the sign, transforming it from "Hello Lane" into "Hello L'ane", which The Daily pointed out meant "Hello Ass'" in French. After a few laughs from students, the administration took the sign down.
---

Aerial photo of the UW in the 1950s shows the location of Hello Lane. Photo courtesy Special Collections, UW Libraries.

---
Remarkably, though, the idea reappeared in the early '50s.
Journalism student Ann Clingan, '53, borrowed the concept for the second Hello Lane from Linfield College, a small Baptist school in western Oregon. Unaware of the UW's original Hello Lane, Clingan wanted to simulate the friendly atmosphere of the religious university on the UW campus. She convinced the administration to put up a sign and give Hello Lane a second chance.
But once again, the reincarnated Hello Lane did not translate well at a big, urban university like the UW, Clingan says. The idea did not catch on and was forgotten within a year. She speculated young people became increasingly skeptical of any sort of civic promotion. Soon, Hello Lane was just a memory.
"I think the University and the community took a backward step in this sense," she says. "I can certainly understand why Hello Lane did not stay very long."
- Nikolai Koveshnikov