ALUMNOTES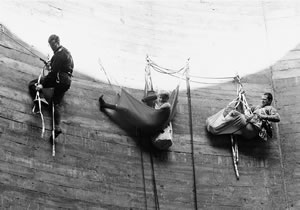 ---

A 1969 mountain climbing class on the UW campus gives these three UW students a chance to hang out in high places. File photo.

---
1930 Helen Potts Reiley, '30
Olympia, and her husband, Eldon, '31, celebrated their 71st wedding anniversary on Aug. 12.
Kathleen Newton Shafer, '34, '36
Tenants Harbor, Me., celebrated her 90th birthday at her home on the Maine coast. During a long career in nursing, she wrote the first nursing text on geriatrics, Geriatric Nursing, in 1950 and participated in the first White House Conference on Aging, called by President Truman in 1950.
Leo Sheehan, '40
Bellevue, celebrated his 60th wedding anniversary on Sept. 12.
Robert S. Trouton, '40
Davis, Calif., moved from El Cerrito into the University Retirement Home in Davis.
Margaret Marshall, '44
Mount Vernon, is a biographer of Northwest residents. Her latest book, distributed by UW Press, is My Father's Legacy-the story of Doctor Nils August Johanson, founder of the Swedish Medical Center, co-written with Katharine Johanson Nordstrom.
John F. Burdoin, '45
Dublin, Calif., is retired and living with his wife of 56 years. They have five children, nine grandchildren, and three great-grandchildren. He retired from the Nuclear Regulatory Commission in 1990.
Clyde B. Anderson, '49
Spokane, retired as president and general manager of Inland Empire Paper Co. He serves on the Washington State Parks and Recreation Commission.
Merrie Virginia Fenton Tyler, '50
Seattle, went to Hollywood and had a successful career with Walt Disney Studios, doing voices for many cartoons. She earned a master's degree in California but declares, "the UW was the greatest university I've ever attended. I was duly prepared and trained at the UW, and will not ever forget that!"
Russel W. Weberg, '50
Kirkland, is the winner of the Island Golf Links/Columns sweepstakes contest offered in the June issue of Columns. He will receive a golf getaway vacation for two at Fairwinds Golf and Country Club in Nanaimo, B.C. He retired in 1990 after 40 years of teaching, including 20 years in the South Kitsap School Dist.
Edwin A. Olsen, '51
Bend, Ore., and his wife, Nancy, '52, celebrated their 50th wedding anniversary in July. They have one son and two daughters. One daughter, Andrea Olsen, '72, works for Alaska Airlines in food services.
Clayton H. Bradshaw, '52
Lyndhurst, Ohio, plans to move to a retirement community with his wife, Lois. They have two daughters. Clayton volunteers by designing and building equipment for handicapped children.
Eric W. Fonkalsrud, '53
Santa Monica, Calif., was professor and chief of pediatric surgery at UCLA Medical Ctr. from 1965-2000. He authored five books and more than 600 research articles and book chapters before he retired.
Jerry Thonn, '54
Seattle, retired after 40 years of law practice with Reed McClure and Helsell Fetterman. He continues to participate in AARP, the Allied Arts Foundation and Friends of the Pike Place Market.
Kathleen Dwyer Duyck, '56
Phoenix, and her husband, Robert, celebrated their 40th wedding anniversary with 10 members of their original wedding party.
June Haas, '56
Haines, Alaska, recently attended her 50th high school reunion.
Judy Turner, '58
San Diego, is a real estate agent for Prudential California Realty. She is a member of the Kiwanis Club of La Jolla and serves on the La Jolla Half Marathon Committee.
Paul John Green, '58
Eugene, Ore., is a life member of the London Diplomatic Academy, the Order of International Ambassadors, and a Cavalier-Knight of Science-Education-Culture. A former librarian at the Univ. of Oregon, he's now back in Eugene as a independent critic and scholar in comparative literature.
You must be a member of the UW Alumni Association to be listed in the Alumnotes section. To join, call (206) 543-0540 or 1-800-AUW-ALUM, or visit UWalum.com on the Web.
G. Dennis Shine Jr., '60
Springfield, Ore., serves on the board of trustees for Lane Community College.
Norman L. Smith, '60
Albion, Nev., led the restoration of a grave site at Dyea, Alaska, a late 1800s-era Klondike gold rush town.
Auria E. Aromin Rosenberg, '61
Auria E. Aromin Rosenberg, '61 Chicago, was nominated for the Suave Performance Plus Award, which is given to six outstanding teachers in Chicago. She is a French teacher and chairman of the World Languages Department of Phillips High School Academy in Chicago. Her daughter, Deena Robyn, '91, is a pilot.
Harriet Buckman Stephenson, '61, '62, '67
Seattle, founded , the web site committed to fighting hunger. She celebrated her 35th year of teaching at Seattle Univ. as director of The Entrepreneurship Ctr.
Harry L. Galles, '61, '67
Livermore, Calif., retired from Lawrence Livermore National Lab. last July after 34 years and has a new career running a vineyard.
Kate Finegan Gross, '62
JSeattle, won a national writing award from Writer's Digest.
Jon Rider, '62
Kennewick, relocated to Eastern Washington and is working for Pacific NW National Laboratories. He is on a U.S. team working with the Russian government to improve the security of Russian nuclear materials. He was executive director of the UWAA from 1990-96.
Barbara deLateur, '63
Baltimore, served as professor, director and Lawrence Cardinal Shehan Chair of Physical Medicine at John Hopkins School of Medicine from 1994-2002. She continues to conduct research in biomechanics.
Gordon J. Christensen, '63
Provo, Utah, and his wife, Rella, are serving a two-year commitment to their church, the Church of Jesus Christ of Latter-Day Saints, administering a major visitor's center at the Los Angeles Mormon Temple.
Julius J. Brecht, '64
Anchorage, Alaska, ran the Pittsburgh Marathon in July, finishing fifth in his age group with a time of 3:57:02. He ran the marathon with his older son, Stephen, '02, a graduate of UW medical school who just completed his five-year residency in orthopedic surgery. "We came across the finish line together," he writes proudly.
Sandy Carlssen Mory, '64
San Jose, Calif., and her husband, Roy, have retired and plan to travel and spend time with their grandchildren.
Steve D. Wilson, '64
Lynnwood, returned to the Seattle School Dist. as principal of Ingraham High School, where he was principal from 1980-88. He most recently was principal of Sahuaro High School in Tucson, Ariz.
Joe C. Jones, '65
Seattle, played on the 1959 Husky Rose Bowl team and is a member of the Husky Hall of Fame. He was inducted into the Solano Community College Hall of Fame in Vallejo, Calif., on Oct. 19.
James Paul, '65
Edmonds, is director of the Academy of Music Northwest in Bellevue.
James T. Webb, '65, '75, '79
San Antonio, received the prestigious "Silver Snoopy," the NASA Astronauts' Personal Achievement Award, for his contributions to the success of manned space flight missions. A scientist with Wyle Laboratories, he works with the Air Force Research Laboratory's High Altitude Protection Research Program at Brooks Air Force Base in San Antonio. He was honored for his work in the areas of decompression sickness.
Elizabeth J. Webber, '66
Seattle has been a teacher and curriculum and staff development specialist in K-12 education. She authored S.M.A.R.T. Management For Teaching And Learning: Behaviors That Work/Strategies That Matter, published by Hara Publishing.
Bob Garrison, '67
Carlsbad, Calif., co-founded two pharmaceutical companies and opened Bob Garrison and Associates, a residential real estate company.
Gaylord Reagan, '70, '71
Omaha, Neb., is working on a consulting project with the city of Omaha. He will publish a communication styles inventory in The 2003 Team and Organization Development Sourcebook, and had an article titled Tiered System Bad for Profession published in the July-August 2002 issue of Academe, the publication of the American Association of University Professors.
Diane Case Seppa, '71
Woodinville, is VP of employee support for Cray, Inc., a leading provider of supercomputers worldwide.
Karen A. Holbrook, '72
Columbus, Ohio, is the new president of Ohio State Univ. Before assuming the helm at Ohio State on Oct. 1, she was senior VP for academic affairs and provost at the Univ. of Georgia, and VP for research and dean of the graduate school at the Univ. of Florida. She earned her Ph.D. at the UW in 1972 and served several years on the faculty of the UW School of Medicine as a professor and vice chair of biological structure.
Doug Leland, '72
Beaverton, Ore., is corporate VP of Weyerhaeuser after spending 29 years with Portland-based Willamette Industries. He and his wife, Karen, '72, have four children.
Marilyn Pires, '72
Long Beach, Calif., will be inducted as a fellow in the American Academy of Nursing.
Paul Kronfield, '73
Houston, and his wife, Weihong, are finishing up a vacation in China and Japan.
Lawrence Watters, '73, '88
Wuhan, China, is a visiting professor in the Institute of Environmental Law at the Univ. of Wuhan in China.
Charles S. Clark, '74
Bakersfield, Calif., is the lead project manager for Valley Sun Mechanical Construction.
Jaisen Mody, '74
Portland, Ore., is a manager at Portland General Electric. He and his wife, Sunita, have a daughter, Seema, who is planning to attend medical school at the UW next fall.
Dariel Brady Norris, '74
Preston, is the mother of eight children ranging in age from 6 to 26. She home-schools her children, is the secretary for her community club, sings in her church choir, provides nursing services for the elderly in the community and attends Husky football games.
Michael J. Nutt, '74
Cordova, Tenn., is director of materials research and quality assurance at Spinal Innovations, Inc. The company designs, prototypes, tests, produces and distributes spinal implants for treatment of spinal disorders, trauma and fusion. His wife, Dorothy, retired from International Paper in Memphis.
Steve Lawson, '75
Issaquah, is executive producer of Christmas in the Northwest, a holiday music CD featuring Northwest musicians and benefiting Children's Hospital and Regional Medical Ctr. in Seattle. Other UW alumni associated with the project are The Brothers Four (Bob Flick, '60; Dick Foley, '61; Mike Kirkland, '61; and John Paine, '59) and Steven Ray Allen, '80.
Frank Serafini, '75
Marietta, Ga., writes to say he is in the middle of his 17th corporate relocation. He recently joined Bank of America as a senior VP in human resources. "Actually, I am working things that I did most of my years as a corporate executive, such as hiring, loss of key employees, pay for performance, success profiles, etc.," he writes.
Galen Stark, '75
Marblemount, retired as wilderness district ranger at North Cascades National Park after 25 years. He, his wife Lynn Arthur, '79, and their children, Marina and Del, plan to relocate to Puyallup.
Marlene Blessing, '76, '81
Denver, is editor in chief at Fulcrum Publishing in Golden, Colo. In October, her anthology of road stories by contemporary women, A Road of Her Own, was published. Her husband, the late Richard Blessing, was a professor in the English department at the UW.
Gordon Vincent Mueller, '76
Sumner, is lead facilities engineer at the new Boeing Frederickson Plant, which produces aircraft wings and composite parts. He received his master's of science in technical management from Embry-Riddle Aeronautical Univ. in 2001.
Darci Covington Swanson, '76
Yakima, serves on the state board for the Foundation for Early Learning and the Yakima Valley Memorial Hospital Board of Trustees. She splits time between Yakima and Bellevue with her daughter, Gretchen. Her husband, Eric Swanson, '69, '70, died on May 25, 1999.
Donna Kirz, '78
Portland, Ore., moved back to the Pacific NW after living in Chicago for 18 years. Her son, Joseph, will begin kindergarten and her daughter, Beatrice, will begin pre-school.
Doug Seto, '78
Seattle, joined Adinfonitum Inc. as managing partner and a member of the board of directors. A member of the UWAA Board of Trustees, he serves on the boards of the Chief Seattle Council, Boy Scouts of America and Washington Athletic Club.
Greg Fellman, '79
Boise, Idaho, was promoted to assistant store manager of the JC Penney in Boise, Idaho, located in the Boise Town Square Mall.
Sanford Leffler, '79
Seattle, is preparing to retire from social work next year. He continues to conduct research about a new species of beetle from Idaho.
You must be a member of the UW Alumni Association to be listed in the Alumnotes section. To join, call (206) 543-0540 or 1-800-AUW-ALUM, or visit UWalum.com on the Web.
Priscilla Reynolds Broberg, '80
Mountain View, Calif., is an information technology consultant, specializing in customer data quality issues and data cleansing processes. She recently made a presentation at MIT's International Data Quality Conference.
Mark S. Harris, '80
Los Alamos, N.M., is a project manager at Los Alamos National Lab. His wife, Lisa, also works at the lab. His oldest daughter is a student at Central Washington Univ. and his oldest son is a Navy aviation electrician in Virginia. They also have a son and daughter living at home.
Douglas A. Luetjen, '80
Seattle, married Sherrey St. John, '99, on May 17, 2002. Doug is a business lawyer with Bullivant Houser Bailey PC and Sherrey is an attorney with Quellos Group, LLC, a Seattle-based financial service firm. Doug is the author of the "Why I'm Proud I'm a Greek" article in the Sept. 2001 issue of Columns.
Lynn Carrigan, '81
Vashon, was appointed to the faculty in the UW School of Social Work in 2000 as lecturer and practicum coordinator and also teaches in the UW School of Medicine. Her daughter, Caitlin Strick, '02, just graduated from UW with a degree in communications and creative writing.
Eric Fletcher, '81, '83
Edmonds, has practiced physical therapy in the Seattle area since graduation. He currently manages the Univ. Dist. Clinic for Olympic Physical Therapy. He and his wife of 12 years, Jennifer, have two children, Breanna, 10, and Dylan, 9.
Michelle O'Brien-Palmer, '81
Woodinville, is a writer with 14 books to her credit. Her latest works are Poetry Pizzazz by Scholastic and How the Earth Works by Chicago Review Press.
Julie Lynn Bjornsson, '83
Tacoma, is project coordinator at Intel in Dupont. She received her M.B.A. from Pacific Lutheran Univ. in August.
Kenneth R. Lyles, '83
Seattle, was named general manager of Fishermen's Terminal for the Port of Seattle. He is pursuing a master's degree in public affairs from the Evans School of Public Affairs at the UW.
Karen Rosenzweig, '83
Bothell, left the high-tech PR agency world to become director of communications for the Independent Colleges of Washington.
Carol Kiolet Pederson, '85
San Diego, works part-time at Children's Hospital and Healthcare Ctr. of San Diego and is a licensed clinical social worker for the state of California. She and her husband have an 8-year-old son.
Suzanne Sun, '85
Los Angeles, is an account executive for TV stations Fox 11/ UPN 13 in LA. In June, she became engaged to David R. Wells, a graduate of Seattle Pacific Univ.
Lisa Koukal Yakovenko, '85
Fort Lauderdale, Fla., is the manager of maintenance for Latin America with American President Lines. Despite living close to the Univ. of Miami, she declares, "I have not become a 'Canes fan!"
Gayle L. Frevert, '86
Bremerton, retired from the U.S. Navy in August after nearly 26 years of service as a commander in the Navy's Nurse Corps.
Maris I. Galins, '86
Seattle, is president of MG Financial, a financial planning company.
Sharron Sellers, '86
Seattle, is the director of communications and marketing at Edmonds Community College in Lynnwood. She was also elected president of the Public Information Commission of the Washington State Board of Community and Technical Colleges. She lives in North Seattle with her husband, Marlin Appelwick, '79.
Carrie York, '86, '91
Mercer Island, received two awards in July at the Pacific NW Dental Conference in Seattle. She received the Outstanding Young Dentist Award from the American College of Dentists' Washington Section, and was selected for a fellowship into the Pierre Fauchard Academy, an international honorary organization. She and her husband, Mark Williams, have twins, Elisabeth and Braden, 4.
Peggy Hoffman, '87
Norfolk, Va., works in the event production field with Pallotta TeamWorks, a for-profit company raising money for charity.
Rob Gudmundson, '87
Seattle, and wife, Candace Tutt Gudmundson, '87, announce the birth of their daughter, Emma Grace, on June 30. He is on leave from his position as a labor and employee relations attorney at Washington Employers Assoc. in Seattle after being recalled to active duty in the military reserves for one year in support of post-Sept. 11 operations. Candace is managing editor of the Edit Design Ctr. at the UW atmospheric sciences dept.
Pete Fontaine, '88
Seattle, completed his secondary teaching certification program at Western Washington Univ. and teaches high school in Seattle. He received his M.A. in foreign affairs from the Univ. of Virginia in 1990.
Steven E. Loeffler, '88
Victoria, B.C., is a U.S. Navy lieutenant commander with the Canadian Fleet Staff in Esquilmalt, B.C.
Lizabeth Allison, '89
Williamsburg, Va., received the 2002 Alumni Fellowship Award from the College of William and Mary, where she is an associate professor of biology.
You must be a member of the UW Alumni Association to be listed in the Alumnotes section. To join, call (206) 543-0540 or 1-800-AUW-ALUM, or visit UWalum.com on the Web.
Luis H. Acuna, '90
Bellingham, serves on the board of directors of the Organic Trade Assoc. He is director of international operations for CF Fresh, an organic produce company based in Sedro-Woolley. He and his wife, Julie, live in Bellingham.
Barbara V. Moretti, '90
Enumclaw, has worked with Starbucks for more than five years. Her latest position is deployment manager in the partner resources dept. She and her husband, Lee Smith, have a 2-year-old granddaughter, Grace.
Coleen McArthur, '90
Wolverine Lake, Mich., was married to Paul Weglarz of Farmington Hills, Mich., in Las Vegas on June 6.
David S. Grega, '90
Carmichael, Calif., completed his graduate degree from the Univ. of Nebraska with specialization in family medicine.
Elisa Devera, '90
Versailles, Ky., is working for Marley and Beck Press. The company recently published The Educated Student: Getting the Most Out of Your College Years by Richard Labunski.
Michael R. Fast, '91
Tacoma, was named to the Big 50 list for Remodeling Magazine. Fast is CEO of MRF Construction, Inc., which has received numerous awards for its remodeling projects. The Big 50 award recognizes those who have set the standard for professionalism and integrity in the professional remodeling industry.
Carol Bolt, '94
Seattle, had her book Love's Book of Answers published this fall by Abrams. An award-winning artist, she previously published The Book of Answers, The Literary Book of Answers and The Movie Book of Answers.
Barbara Brotherton, '94
Seattle, taught at Western Michigan Univ. for several years before returning to Seattle with her husband, Mark, and her son, Ethan. She is now curator of Native American art at the Seattle Art Museum.
Cindy Egerter, '94
Seattle, has been married to Mark Brower, '94, for six years. The have a 1-year-old son, Evan. She works part-time for KPFF Consulting Engineers as a civil engineer.
Jennifer L. Yerkes, '94
Seattle, and her husband, Philip, '94, announce the arrival of their first child, Kate Marie, on May 22. "She is already looking forward to being a graduate from the UW in the class of '24," Jennifer writes.
Scott R. Sleight, '94
Seattle, has joined the law firm of Short Cressman & Burgess. His practice focuses on construction litigation, real estate litigation, general commercial litigation, insurance litigation and surety law. He graduated from the Seattle Univ. School of Law in 1997.
Michele D. Walker, '94
Seattle, graduated from the Seattle Univ. School of Law in 1999 and has been a prosecutor with the city of Kent for the past 1 1/2 years.
Heather Boylan, '95
Northridge, Calif., married Joe Perez in August 2001.
Mary Hatcher-Skeers, '96
Claremont, Calif., was promoted to associate professor with tenure at the Claremont Colleges.
Coreen Larson Nickerson, '96
Seattle, gave birth to her second child, Peter Lars Nickerson, on June 4.
Shannon Cabilao, '97
Mililani, Hawaii, is a secondary special education teacher in Honolulu. She is also an assistant varsity football coach for Iolani High School.
Kristy Holtfreter, '97
East Lansing, Mich., earned her M.S. in criminal justice at Michigan State Univ. and is working on her Ph.D. in criminal justice with an emphasis on organizational behavior.
Amy Miller, '97
Washington, D.C., works at the National Zoo's education department.
Becky Murphy, '97
Orange, Calif., works as a restaurant manager at Disneyland.
Linda Smith, '98
Snoqualmie, is pursuing a master's in teaching at Seattle Pacific Univ.
Jill Satran, '98
Renton, graduated from the UW School of Law in 1998 and was awarded her Ph.D. in public administration and policy from Florida State Univ.
Tom Cline, '99
Lacey, is an assistant football coach at Olympia High School.
Crystal Vernon, '99
Seattle, received her M.B.A. in project management from Jones International Univ.
Pedro O. Agapay III, '00
Bothell, has been in the Republic of Korea working as an Army officer. He hopes to return to the U.S. to work on his master's degree in political science.
Jeffrey Boone, '00
Seattle, and his wife, Renee, '95, welcomed daughter Charley Josephine on March 26.
Melinda Field, '00
Molesworth, England, is on active duty with the U.S. Army as an intelligence analyst in support of Operation Enduring Freedom.
Shirley A. Gaunt-Smith, '00
Renton, expects to graduate in December with her master's in public administration from the Evans School of Public Affairs.
Julie M. Lokis, '00
Egham Hill, England, received her master's in European literary and culture studies from the Univ. of London and is conducting research for her Ph.D. in 19th century French women's history.
Veronica Norgaard, '00
Syracuse, N.Y., is in her third year at Syracuse University's law school.
William H. Rodgers, '00
Seattle, is in his fourth season as head men's basketball coach at Seattle Community College.
Michelle Starry, '00
Minneapolis, works for Ernst & Young's human relations department.
Karen O. Vernon, '00
Berkley, Mich., teaches in the Berkley, Mich., public schools.
Kelly Carey, '01
Seattle, is center administrator for the Univ. Baptist Children's Center.
Kathy Knieriem, '01
Fife, is in the M.S.W. program at Walla Walla College.
Robin McClane, '01
Seattle, is group program coordinator for Camp Fire USA.
Kurt Schieferdecker, '01
Fife, and his wife, Elizabeth, welcomed son Benjamin Scott in February. "While life as a professional firefighter is both exciting and rewarding, it pales in comparison to spending time with Ben," he writes.
You must be a member of the UW Alumni Association to be listed in the Alumnotes section. To join, call (206) 543-0540 or 1-800-AUW-ALUM, or visit UWalum.com on the Web.
---
Submit a Class Note
Tell us what major events have happened in your life: a new job, marriage, children, retirement, advanced degrees, you name it.

Submit an Obituary
Please let us know if a UW alumnus has died. Be sure to include date of death, place of death and age along with the UW class year (if known).

Update Your Records
Moving soon or know someone else who has? Let us know so that we can keep Columns coming to you.

Contact Information
Columns Magazine
1415 N.E. 45th Street
Seattle, WA 98105
Phone: (206) 543-0540
Fax: (206) 685-0611.
E-Mail: columns@u.washington.edu