NATIONAL MEDAL OF ARTS
Chuck Close, '62
A pioneer in photorealism, artist Chuck Close received a 2000 medal from President Bill Clinton.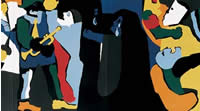 Detail from "Theatre" by Jacob Lawrence
Photo by Richard Nicol
Jacob Lawrence
UW Art Professor Jacob Lawrence received a 1990 medal from President George H.W. Bush for his lifetime achievements in painting the African American experience.
MEDAL OF HONOR

Gregory "Pappy" Boyington
Photo courtesy National Archives
Gregory "Pappy" Boyington, '34
The Marines' WWII ace, Boyington downed 28 enemy planes before being captured by the Japanese and spending the rest of the conflict in a prisoner of war camp. His squadron's exploits became the 1970s TV series, Baa Baa Black Sheep. (For more on "Pappy" Boyington, see "Our Back Pages," December 1998.)
Deming Bronson, '15
This UW graduate won a Medal of Honor in World War I for capturing enemy prisoners near Eclisfontaine, France, in1918. He was wounded by a hand grenade and a bullet and still led his unit to capture enemy positions. At the UW, he was a forestry major and played Husky football from 1912-1916 under legendary Coach Gil Dobie.
Robert Galer, '40
As a Marine Corps major in August and September of 1942, he repeatedly engaged Japanese aerial forces in combat, "individually shooting down 11 enemy bomber and fighter aircraft over a period of 29 days," according to the text of his medal citation. Galer was himself shot down four times during his service in World War II and Korea. He retired as a brigadier general in 1957.
John D. "Bud" Hawk, ¹52
Army Sgt. Hawk was wounded on August 20, 1944 in France when the German army was trying to escape its encirclement following the Normandy invasion. A portion of his medal citation reads, "Sgt. Hawk's fearless initiative and heroic conduct, even while suffering from a painful wound, was in large measure responsible for crushing two desperate attempts of the enemy to escape from the Falaise Pocket and for taking more than 500 prisoners."
Robert Leisy ,'68
He served as a 2nd Lt. in the Vietnam War and was awarded the Medal of Honor posthumously. During an engagement in Phuoc Long Province, Leisy's unit was ambushed by a far larger force of North Vietnamese soldiers. He shielded his men from rocket grenade attack and died of the wounds on Dec. 2, 1969. He was 24.
William Nakamura
Forced to leave the UW because he of the internment of Japanese Americans, William Nakamura enlisted in the famous 442nd Regiment Combat Team, the most decorated military unit in U.S. history. He died in Italy on the Fourth of July, 1944, while providing cover for his pinned-down platoon. He attended the UW in the 1940s.
For more information, see "Final Honors."
NATIONAL MEDAL OF SCIENCE
Ray Clough, '42
This University of California engineering professor received a 1994 medal from President Bill Clinton for his contributions to the field of earthquake engineering.
Ernest Davidson
The newly arrived UW chemistry professor received a 2001 medal from President George W. Bush for his contributions to computational quantum chemistry.
Hans Dehmelt
This UW physics professor received a 1995 medal from President Bill Clinton for his pioneering achievements in perfecting electromagnetic traps for single ions, electrons and positrons.
Richard Karp
Karp was on the UW faculty when he received a 1996 medal from President Bill Clinton for his research in theoretical computer science. He has since left the UW for the University of California, Berkeley.
George Stigler, '31
The University of Chicago economics professor received a 1987 medal from President Ronald Reagan for his efforts to advance the understanding of industry and its relation to government.
E. Donnall Thomas
This UW medicine professor and Fred Hutchinson Cancer Research Center director received a 1990 medal from President George H.W. Bush for his pioneering work in bone marrow transplants.