The Cal Ripken of His Field
When Army Sgt. Maj. Gilbert Morales talks about his friend and colleague, Sgt. Maj. Larry Strickland, he can't help but make a baseball analogy to the Baltimore Orioles' legendary shortstop.
"He was the Cal Ripken of our career field, a real icon," says Morales. "There is no real replacing him."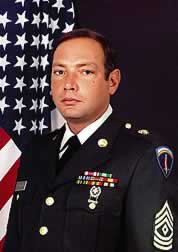 ---

Sgt. Maj. Larry Strickland. Army photo.

---
Like Ripken, Strickland was planning to retire at the end of September. He had served 30 years in the Army, rising to the highest rank an enlisted man or woman can attain—sergeant major—and for the last 10 years was a personnel adviser to a series of three-star generals in the Pentagon.
Strickland was an advocate for enlisted men and women amid the top brass of the Pentagon as they set policy on everything from promotions to pay raises to family leave.
"He did not hesitate to go to a three-star general and tell him, 'You are about to make a mistake.' That was his job. And he obviously did it well, since we went through four or five generals and each time we got a new one, he asked Larry to stay," says Martha Carden, a civilian Pentagon employee who was Strickland's friend and officemate for 11 years.
Only 19 days away from retirement, Strickland came to his Pentagon office on Sept. 11 even though he didn't have to be there, Morales says. Because he was retiring, he needed to use up his annual leave or he would lose it. But he came in anyway, Morales recalls, because there was going to be an important briefing the next day on Army transformation. "He wanted to make sure those briefings were right," the sergeant major says.
But the former UW student never made it to the briefings or his retirement. On that day American Airlines Flight 77, commandeered by terrorists, crashed into the west side of the Pentagon where he was working. He was one of 189 deaths in the Pentagon attack and the only member of the University of Washington community to die in the terrible events of Sept. 11.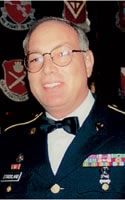 ---

Sgt. Maj. Larry Strickland.

---
Strickland, 52, is survived by his wife, Debra, a sergeant major at Ft. Belvoir, Va.; three children; Julie, Matthew and Chris; and a year-old grandson, Brendan.
Morales knew Strickland for 16 years, first meeting him when they were both stationed in Germany. Even then, Strickland was a top adviser in personnel matters. "He was fair, honest, never overbearing. He was receptive to different opinions and wasn't locked into any one frame of mind, but he could sure make a decision when it needed to be made," he recalls. "Sgt. Maj. Strickland always kept in mind what was best for the Army as a whole."
Outside of the office, he doted on his year-old grandson and adored his wife. "They were made for each other, a perfect match," says Carden. He was a gourmet cook and an avid gardener, she says, but his overriding passion was fishing, a sport he first learned with his father, by fishing in Puget Sound.
A native of Edmonds, Strickland was the drum major for the Edmonds High School marching band and later played for the Cascade Symphony. He came to the UW in the fall of 1967, planning to be an engineer and joining the Tau Kappa Epsilon fraternity.
He was a "great big guy with a smile, always nodding, sage-like. He was a guy who seemed to understand," says a fraternity brother, Tom Tivnan, '73.
"He seemed to lead a charmed life," adds Bob Cline, '71, who shared a house and an apartment with Strickland once they moved out of the TKE house. "He was handsome and well liked, a take-charge kind of guy and a natural leader. He was one of those guys you just gravitated to."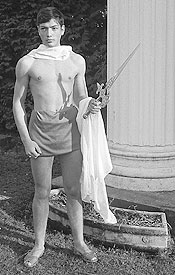 ---

UW student Larry Strickland poses as Apollo in front of the columns for a 1968 fraternity publicity photo. Photo by R.K. Lee.

---
Strickland was so popular, the TKE president talked him into posing for a rush ad aimed at 1968 freshmen. His brothers dressed him up as Apollo and posed him in front of the University's columns. "It was a fun part of our lives," says Cline of their time at the UW. "None of us will ever forget it."
But unlike most of his fraternity brothers, Strickland did not graduate from the UW. A history major two quarters short of graduation, Strickland left the UW in 1971 to join the Army. His mother, Olga, says his original plan was to get a teaching degree. But that changed due to a poor job market and he enlisted instead. During his Army career, he earned a bachelor's degree from the Regents College of New York.
Though technically not an alumnus, Strickland was a proud Husky. "He followed the scores no matter where he was," recalls his mother. "Whenever they did well, he had to have a new Husky shirt."
Pentagon colleague Carden says he was also an ardent Seattle Seahawks fan, and she would have fun teasing him because she favored the Washington Redskins.
"He was one of the greatest guys I've ever known. He was like a brother," she says. "He looked after me. If I was in difficulty, he was right there and would help me out. I miss him terribly."—Columns Editor Tom Griffin wrote this memorial about Sgt. Maj. Larry Strickland, who would have been a member of the Class of 1971.