Lifesaving Flight Is Grounded by F-16s
On the morning of Sept. 11, I got into my car and turned on NPR. My mother-in-law had called a few minutes earlier to tell us a plane had crashed into the World Trade Center. When the radio came on, they were describing the other plane crashing into the second tower.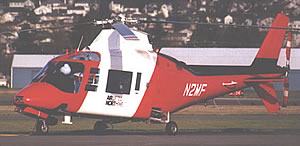 ---

Airlift Northwest helicopter Augusta at its base in Arlington, Wash.

---
It was a tough drive. I'm from New York. My brother works in Manhattan. My old roommate works on Wall Street. And my cousin works a block from the trade center. I went to the OR for lung surgery and my nurse informed me that the towers had collapsed. I began operating and the phone rang: There might be a set of lungs from a donor in Alaska.
Doctors once thought donor organs, such as the lungs, could only last four hours outside of the body. Now we are successful with organs that have been out eight hours or longer. Alaska is a stretch for us, but we've been doing retrievals from Alaska.
But the situation was different this day. My father was a Navy pilot and then flew for American Airlines. Through him I've learned a fair amount about air travel. I was fairly certain that the civilian air space would be shut down. Everyone in the room assumed this transplant simply would not happen.
But the people coordinating the transplant, LifeCenter Northwest, stated that they were able to get flight clearance. I called my dad and he voiced his concern. He told me that the more people involved, the more room there is for error. "I really think you are going to be vulnerable," he said. Ultimately LifeCenter stated that the clearance was genuine and the window for flying was broad. I sought two additional assurances and then agreed to go.
We left Boeing Field in two separate planes. I was to do the heart and lung retrieval and Adam Levy the liver and kidney retrieval. It's standard procedure. Because the organs I retrieve are more fragile, I have to get back quickly. On the way up, the pilot was quite nervous. He informed me that we were the only civilian aircraft flying in U.S. air space. We reached the donor hospital and the procedure went perfectly. The donor was a young man who had died tragically. The lungs were pristine. The heart was perfect.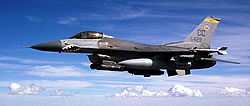 ---

An Air Force F-16 Fighting Falcon. Department of Defense photo by Jeffrey Allen.

---
We returned to the airport and met an executive from Alaska Airlines who had been stranded and obtained clearance to fly to Seattle with us. Upon crossing into Canadian airspace we were intercepted by a Canadian Air Force jet. Minutes later we were also picked up by a U.S. fighter. About 12 minutes from Boeing Field we suddenly changed speed and veered off course. We were flying over places we couldn't recognize. At this point, the pilot wasn't talking to us.
We landed at an airport I didn't recognize. As we taxied closer I saw a sign: "Bellingham International Airport." My heart sank. We were well into the time limit for reimplatation and we were far from the University. We were told that we were diverted for security reasons and, as I looked up, I saw two F-16 fighter jets, circling just above us. We found out later that while Dr. Levy's return flight plan was OK'd, ours somehow got lost in the complicated events of the evening.
We had two, maybe three hours to go before the organs would run the risk of significant deterioration. As per standard practice, the transplant recipients were ready and waiting in the OR. I didn't scream or yell ( I'm not like that). My focus was entirely directed toward alternate routes back: ground transportation, returning on our jet, or by helicopter.
I stated clearly to the airport officials that there was an absolute mandate for us to get back. "It is not negotiable nor acceptable in any way that these organs be allowed to deteriorate," I said. If you don't give people any wiggle room, it's amazing what they can do.
The pilot was on his cell phone, I was on mine, my assistants were on theirs. The fellow from Alaska Airlines was trying to reach an FAA regional director he knew. Cell phone batteries started to go out, so we started swapping phones. The executive from Alaska Airlines got through to a senior FAA official and ultimately to a major at McChord Air Force Base.
We got very limited flight clearance. A helicopter would be fastest given it was now rush hour, so Airlift Northwest sent one to Bellingham. The pilot stated that he could take only one person and the organs. Since I had to put the lungs in, the choice was rather obvious. Twenty minutes later we landed at the helipad near Husky Stadium. The pilot said he couldn't turn off the rotors. That meant I had to get out of the helicopter, hunch over and make my way to the storage unit next to the rear rotor blades to get the organs. I guess that falls into the "just when you thought the fun was over" category.
On the way back to the hospital, I told myself it was time to forget about all of this. I had to implant these organs quickly. I needed to be relaxed and focused. In the end, the lung transplants went extremely well and Dr. Gabriel Aldea did a very successful heart transplant. I later found out that the kidney and liver transplants went smoothly as well. In total, six patients got a gift of life from one donor.
Donor lungs are very fragile and tend to deteriorate quickly. To overcome that, and do a successful transplant, is really quite a miracle. It enables someone to simply breathe again instead of having to struggle for air.—UW Surgery Professor Michael Mulligan specializes in lung transplants.