ER on the Streets of New York
I was in New York attending a meeting of emergency physicians, nurses and paramedics. Soon after the collapse of the second tower, we were deployed as a team to Ground Zero, about four blocks from World Trade Center Building 7, which itself collapsed about five hours after our arrival. Twenty-two of our group triaged patients and provided medical support to the police and fire departments.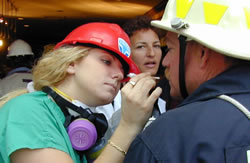 ---

Emergency worker helps N.Y.C. firefighter during a break from his recovery work at the World Trade Center disaster site. FEMA news photo by Michael Rieger.

---
The enormity of the destruction was exceeded only by the human courage and spirit of the victims. The few deranged terrorists were hopelessly outnumbered by the hundreds of thousands of common, everyday people responding in the only way they knew—with love and compassion.
The owners and managers of the 40-story building, in front of which we set up our casualty station, were single-minded: Give the medical team—and the police and firefighters—whatever they needed or wanted. Tables and chairs were brought outside and used for patients; easels and coat racks were IV poles; any food in the building was ours; medical equipment and supplies were freely removed from a nurses' station in the building. Blankets and pillows appeared almost miraculously. A maintenance crew set up floodlights outside the building for our "hospital." Other maintenance engineers became food service workers.
People brought bandages and medications from their own medicine cabinets in their apartments to give to our team.
A doctor needed a bicycle to travel to a triage staging area. A local bicycle merchant gave him one of his new models. The doctor told him, "I don't know when—or if—I'll be able to return it." The shop owner said, "Don't worry about it."
When you asked New Yorkers where to locate something, they wouldn't tell you—they would take you. "Reasonable" replaced "legal." If it was needed, you could, and should, do it.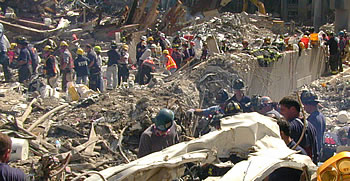 ---

Hundreds of rescue workers and firefighters sift through the rubble of the collapsed World Trade Center. FEMA news photo by Michael Rieger.

---
Injured firefighters and police had only one thought as they were being treated—returning to help their colleagues. Tearful firefighters told us, "Don't call us heroes. We're only doing our job."
Volunteers to help came out of the woodwork (like us, I guess): "I'm a dentist. Can I help?" "I'm a nurse. Can I help?" "I'm a psychologist. Can I help?" "I'm a CNA. Can I help?" "I don't have any medical skills. I can write, and I speak Spanish. Can I help?" "I'm strong and willing. Can I help?"
Every time a group of more than five to 10 police or firefighters walked past our intersection or down the street, onlookers applauded.
A man driving a truck loaded with bottled water stopped at our medical station, unloaded his entire truckload of water, and drove away without a word being spoken to us.
As the World Trade Center Building 7 collapsed four blocks away and sprayed its debris toward our station, some people panicked and ran, and some fell to the sidewalk. But others stopped to help them to their feet to avoid being trampled by the crowd.
Acts of heroism were performed as if routine.
A homeless man spent nearly five hours at our intersection directing traffic—very successfully.
Back at our hotel—a Marriott, by the way—the building was opened for tired and injured people evacuating Manhattan by foot. A large meeting room ("Capacity: 2019") became a shelter. Coffee, water and juice appeared. Food (the good stuff, too—including tortes and pecan pie) came from the kitchen. Blankets, pillows and towels were provided. A first-aid station was set up by some of our team. They even allowed us to establish a blood donation center with the help of local blood bank officials (not exactly "legal" but certainly "reasonable"). Furthermore, the Marriott staff even brought four refrigerators into the first aid room for the donated blood. At that, hundreds of donors had to be turned away.
The human spirit—an element of "common grace"—prevailed in hundreds of thousands of New Yorkers' lives. News reporters want to create scorecards that tally only bodies. That's the wrong way to count.—Clinical Professor of Medicine Leon Greene is a Seattle cardiologist who volunteers at Harborview Medical Center.