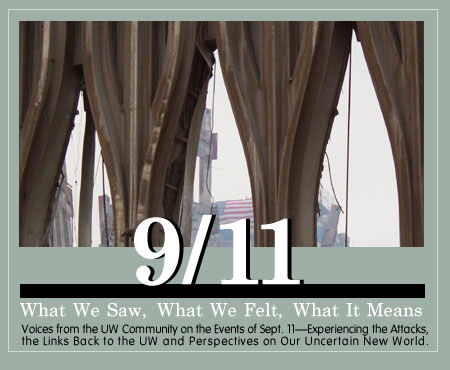 Edited by Tom Griffin.
Seeing the Unimaginable
—by Elaine McCusker, associate director, UW Office of Federal Relations
ER on the Streets of New York
—by UW Clinical Professor of Medicine Leon Greene
What I Saw: Brooklyn
—by Audrey Edwards, '69
The Cal Ripken of His Field
—by Tom Griffin, editor, Columns Magazine
What I Saw: Ground Zero
—by Samantha Appleton, '97
Lifesaving Flight Is Grounded by F-16s
—by UW Surgery Professor Michael Mulligan
The Minds of Killers—and Terrorists
—by Anne Rule, '53
What I Saw: Red Square
—by Jon Marmor, associate editor, Columns Magazine
December 7 and September 11
—by Randolph Hennes, '52, '66
Content for this article was edited by Columns Editor Tom Griffin with the help of Columns Associate Editor Jon Marmor and UW Writer Nancy Wick. We would like to thank all of our contributors for the hours they spent preparing their essays under extremely tight deadlines.