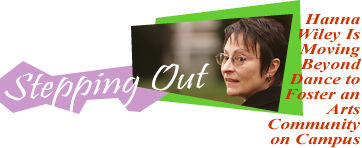 By Nancy Wick
Hannah Wiley didn't know, in 1998, that a new chapter of her life was beginning. At the time, the veteran director of the UW's dance program had been kibitzing with the directors of the art, drama and music schools, brainstorming new ideas.
"Think big," President Richard L. McCormick had told them during a dinner at his home. He might as well have dropped a match into a gallon of gasoline. As directors of schools known for creativity, they put their heads together and churned out enough possibilities to take them well into the new century. But one idea rose to the top for immediate action—to hold a summer arts festival on campus.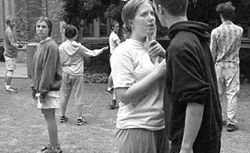 ---

Students from the School of Drama and the Dance Program rehearse a scene from Shakespeare presented at the 2000 Summer Arts Festival. Photo courtesy UWeek.

---
The foursome discussed the festival with Michael Halleran, divisional dean of the College of Arts and Sciences. "They had this idea that they could jointly run it, with staff help, but I knew that wouldn't work," Halleran recalls. "Someone needed to take ownership."
The question was who. Wiley,'73, likes to say that she got the job because she had to leave a meeting early and the absent person always gets "volunteered." But that's the Wiley sense of humor coming forward. It's a characteristic she's known for—so much so that everyone asked to describe her mentioned it. It's also her modesty. As School of Art Director Chris Ozubko says, "Hannah's the kind of person who can stand in the wings and be very happy to see others getting the glory onstage."
Then there's her legendary energy and drive. Halleran calls her "intense and committed, a perfectionist." Others accuse her of being a workaholic, but with a twist. Drama Director Sarah Nash Gates says Wiley "cares passionately about what she does, but she also thinks it should be fun."
So, for all these reasons, Wiley was offered the unexpected opportunity of directing the new festival. In its first year the festival broke all expectations—attracting more than 9,000 people who paid about $70,000 for its ticketed events.
But it isn't just her personality that makes her ideally suited to that job. It's her choices in the earlier chapters of her life, when she repeatedly grabbed opportunities to cross disciplinary and institutional boundaries. Who better to run a festival designed to celebrate everything from children trying their hand at drumming to a production of the classic Hamlet.