Extras
HERMANN PUNDT, 1927-2000
Hermann Pundt was absolutely passionate about architecture. As a professor of architecture and art history at the University of Washington for 32 years, he filled his students with a love of the past, as well as a desire to create new, exciting buildings.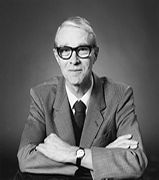 ---

Hermann Pundt. Photo by Mary Levin.

---
Pundt died Sept. 17 at his sister's house in Donauwerth, Germany. He was 73.
"He had a way with his lectures of getting you right in the gut with what he valued most," recalls Alan Maskin, '88, a Seattle architect.
Pundt was born and raised in Berlin. In 1944 he began service as a naval cadet, and at age 16 served with the brigades which defended Berlin when the Soviet army attacked in the closing days of World War II. He was captured but escaped from a POW camp in December 1945. He subsequently worked as an apprentice in a flour mill, then emigrated to the U.S. in 1951. During the Korean conflict he was drafted and served with an aerial intelligence unit of the U.S. Marine Corps. In 1954 he received an honorable discharge and was naturalized as a U.S. citizen.
Pundt joined the UW faculty in 1968 after receiving a Ph.D. from Harvard. He taught classes in architecture appreciation and historic preservation, and was recognized internationally as a scholar of 19th century Prussian architect Karl Friedrich Schinkel. He was also involved in the rebuilding and restoration of two architectural masterpieces in the former East Germany: the Dresden Frauenkirche and the Royal Palace of Sanssouci.
Pundt, who also worked to preserve US buildings of American architects Frank Lloyd Wright and Louis Sullivan, had this philosophy about teaching: "I try to teach students how to see, not to look but to see. I tell them that two years from now, if you look up at a building in downtown Seattle and ask the question, 'Why?' you have earned an 'A' in the course."
Pundt won a UW Distinguished Teaching Award and the Order of Merit, First Class, of the Federal Republic of Germany, both in 1992. Although he retired in 1996, he continued to teach classes.
"He didn't teach architecture in the abstract," says Peter Steinbrueck, '88, a Seattle City Council member and former student of Pundt's. "That's what made his lectures so enthralling. "He imparted in his students a worldly perspective about the true and enduring greatness of architecture and the cultures that produced it. He showed us that the two were inextricably tied. He had an immense appreciation for the legacy architecture has left us."
Donations in his memory will be directed to financial aid for students in architecture; contact Jill Bley, UW College of Architecture and Urban Planning, Box 355726, Seattle WA 98195, (206) 685-0930. —Jon Marmor