From the President
Walking a Tightrope
In just a few weeks, the 2001 state legislative session will begin in Olympia. This is a biennial-budget session, so by April (or later if the session is extended) legislators will have mapped out the state's—and the University's—financial parameters for 2001-2003.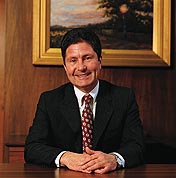 ---

UW President Richard L. McCormick. Photo by Mary Levin.

---
Nobody involved is going to find the process easy this year. The evenly divided House of the last two years leaves a residue of frustration. The large number of initiatives on the ballot this fall is a measure of the public's impatience with the normal legislative process. Legislators face urgent state needs in realms from corrections to transportation to social services, but much of the revenue generated by the state's recent prosperity is out of bounds for legislative decision-making.
Where does this leave higher education? Walking a tightrope. It does us no good to ignore political and fiscal realities. Higher education is an area of discretionary spending and has traditionally been a state "budget-balancer": the recipient of what's left over after mandatory spending is taken care of. It would be irresponsible of us to ask for levels of support that we know the state cannot possibly accommodate.
But it would be equally irresponsible not to spell out the state's real higher-education needs. Opinion surveys indicate strong public interest in higher education, and legislators generally understand its important role in generating economic and social progress for the state. So we have a case to make and the obligation to make it as powerfully as we can.
From this perspective, the UW has spent more than a year in the process of self-assessment, intelligence gathering and planning that goes into every biennial-budget request. This process reaches throughout the University, from departmental meetings to discussions among deans and central administrators to sessions of the Board of Regents. It is a process we always find rigorous, difficult and very valuable—a way to capture the amazing variety of things that go on here and make sure they are aligned with some common priorities.
You can find the results of this process in the article on page 13, which lays out the facts and figures of our budget request. We believe our request is reasonable and moderate, given the current funding environment, and we will do our best to persuade legislators that this is so.
As always, we shaped the budget request around some large themes. This year, we thought first and foremost about the changing needs of the state—how the UW is responding to those needs now and must respond in the years ahead. That led us to emphasize three main challenges that our budget should address: first, providing access and innovation for students; second, contributing to the state's new technology-based economy; and third, maintaining the competitive excellence that will enable us to meet the first two challenges. Virtually all the details of our budget request—expanded enrollment, increased outreach to minority populations, enhanced teaching technologies, state matching funds for research, new components of the joint UW/WSU Advanced Technology Initiative, and salary increases for the outstanding faculty who are the foundation of everything—all these things relate directly to the three challenges above. And all, therefore, are about the UW's potential to serve the people of the state.
Roughly 70 percent of all UW alumni live in the state of Washington, and so most of you reading this column do so with a dual perspective: interest in the fate of your alma mater and interest in the fortunes of your state. In my view, they are not separable. But the constraints under which legislators now operate make it very difficult to invest in higher education. Whatever the outcome of this legislative session, we need to be asking larger questions about our ability to fund higher education at a level that will keep the state moving forward. Neither politicians nor educators can answer these questions by themselves. I invite you to help find a solution.

Richard L. McCormick, President