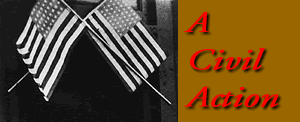 A Civil Action, Sidebar: Yesterday and Today - Diversity and the UW Law School
When Japanese-born Takuji Yamashita rose to receive his diploma in Denny Hall on May 19, 1902, his 10-member graduating law class also included two women and a black man from Barbados.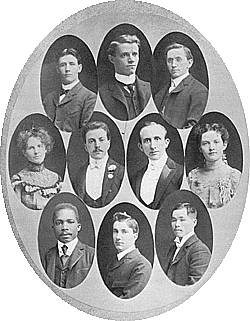 ---

A page from the 1903 Tyee shows the remarkable diversity of the UW School of Law's 1902 graduates. Yamashita is at the lower right.

---
The 169 students entering law school in fall 2000 included 21 Asian Americans but exactly the same number of blacks as Yamashita's class: one.
African American, Hispanic and Native American enrollment at the UW law school has been in decline, in fact, since Washington voters in 1998 passed anti-affirmative action Initiative 200. The year it was on the ballot, there were eight black students in the incoming law class. The next year's class had two, the fewest in a decade.
Declining diversity in Condon Hall is a source of deep frustration for Law Dean Roland Hjorth.
"Lawyers shape the law, and they will shape it better if the legal profession reflects the diversity of our society," Hjorth said. "One can only get a diversity of viewpoints by getting a diversity of backgrounds."
Officials say I-200 undermined the willingness of minorities to even apply to the state's only public law school. The year after it passed, the number of African American UW law applicants plunged from 61 to 37.
The law school was a focus in the I-200 campaign. Katuria Smith, '94, a white applicant from a low-income background, became a poster child for the measure when she sued the UW with the claim that she'd been rejected by the law school to make room for blacks and Hispanics with lower test scores. UW officials said she'd neglected to mention her working class roots on her application.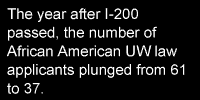 Lawyers for both sides are waiting for the 9th U.S. Circuit Court of Appeals to set a date for oral arguments. Michael Madden, the UW's lawyer, said it could be a year before the case is decided. Washington state dismantled affirmative action when I-200 passed, but Smith's lawyer, Michael Rosman of the nonprofit Center for Individual Rights, says a victory in her case could topple affirmative action in other states where it survives, such as Oregon.
Whatever the courts decide, UW law officials are redoubling their efforts to recruit students of color. Alumni Ambassadors—two dozen law graduates from diverse backgrounds—will contact minority applicants, answer their questions and try to give the law school a human face. Busloads of junior and senior high school students, meanwhile, will visit Condon Hall this year for mock trials and workshops to get a taste of law school life. And when teenagers of color aren't visiting the law school, the law school will come to them, via an expanding program called Street Law that sends law students to selected high schools to teach basic legal principles.
Law schools, of course, traditionally recruit college seniors, but this focus on a much younger audience is no accident.
"The research bears out that if we plant the seed in seventh or eighth grade, then we have a better chance of convincing someone to consider us," said Sandra Madrid, assistant dean. "Hopefully, the fruits of our labors will show up in the years to come." —Steven Goldsmith
Go To: Page 1 | Page 2 | Page 3 | Page 4 | Page 5