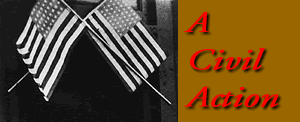 A Civil Action, Part Three: "Not Eligible" to be an American
So the freshly minted law graduate from a small Japanese town made his own stand against the state's top lawmen, in the marble halls of its highest court. Yamashita's 28-page brief demonstrated writing and thinking of "solid professional quality" and legal strategies that are "quite original," said civil-rights scholar Gabriel Chin of the University of Cincinnati Law School, who is devoting a chapter to Yamashita in an upcoming book on race and the law.
---

Yamashita poses in a traditional Japanese robe for this photo, probably taken just before he left for America. Photo courtesy of the Takuji Yamashita Photograph Collection, University of Washington Libraries.

---
For starters, Yamashita argued that when Congress had defined citizenship in 1790, it could not have meant to exclude his countrymen because hardly any had ever been seen on the American continent. But his most memorable point was that shutting out a person on the grounds of race affronted the core values of "the most enlightened and liberty-loving nation of them all ... in which all men are equal in rights and opportunities."
This kind of talk drew the scorn of the state's lawyers, who mocked Yamashita's "worn out Star Spangled Banner orations." Yamashita fired back that he owed no apologies.
"Your applicant ... knows of no tribunal to which an argument based upon the Declaration of Independence and the spirit of American institutions could be more appropriately addressed," he wrote, "than to the Supreme Court of a free American state."
On Oct. 22, 1902, a few days before his 28th birthday, Yamashita heard the Supreme Court's unanimous decision: he was not eligible to be an American, and thus could not practice law.
Blocked from his chosen profession, Yamashita turned to a more typical 20th century immigrant path: business. His mentor Nishii bankrolled him in starting increasingly bigger restaurants in the bustling waterfront districts of Seattle and Bremerton.
Like millions of other immigrants, he maintained a web of contacts with his homeland, starting with a post-graduation trip to marry a grain trader's daughter, Ito Nakagawa. Four years later, the couple returned to Yawatahama to give birth to a daughter, Haruko, who stayed behind to be raised by relatives. Yamashita made several more trips to Yawatahama throughout his life, and anyone visiting the secondary school today can find his name on the plaque of donors.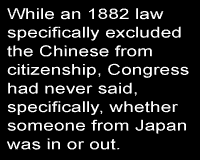 But the Puget Sound area was home. The Yamashitas had five children in Seattle, four of whom died before age 20 from tuberculosis, meningitis and "brain disease." Beset by tragedy, Yamashita took advantage of American opportunity, opening hostelries where travelers would be seeking a meal and a shave, including the landmark Togo Hotel overlooking the bustling ferry dock in Bremerton.
But public records never listed Yamashita as "owner." Washington state's 1889 constitution banned the sale of land to aliens ineligible for citizenship—in effect, Asians. This forced the immigrants to cast themselves as "managers" of businesses owned in the name of their U.S.-born children or cooperative whites. And Washington lawmakers tried to close even these loopholes in 1921 by banning Asians from renting land or renewing an old lease. Not only were the hotelkeeping Yamashitas threatened, but so were the thousands of the Japanese truck farmers supplying, by some accounts, three-quarters of Seattle's produce and half its milk.