By Steven Goldsmith
One of the University of Washington's most celebrated law graduates may turn out to be a man who never practiced law. Solely because Takuji Yamashita, '02, was born in Japan, the highest powers of the state barred him from the Bar.
This injustice took place nearly a century ago, but the personal crusade it set off, forgotten for decades, is being rediscovered by historians and civil-rights scholars who find in the UW graduate's life epic daring and resourcefulness. Hollywood would pitch it as a courtroom drama pitting institutionalized racism against immigrant pluck—a sort of prequel to Snow Falling on Cedars. Hollywood would have it right.
This heroic new light on a forgotten alumnus comes while the law school is marking a string of centennials, from its opening in 1899 to first commencement in 1901. For a climax, Dean Roland Hjorth has asked the current state Supreme Court to publicly correct its predecessor's misdeed (as best it can, since Yamashita has been dead for 41 years) and admit the Class of '02 graduate as an honorary member of the Bar. Court scholars say this would be its first-ever posthumous admission, and the yet-to-be-scheduled restoration ceremony could draw diplomats, relatives and community leaders from both sides of the Pacific.
Back in 1900, Yamashita stood out as only the second Japanese student in the UW's four decades of existence—Jinta Yamaguchi, Class of 1899, was the first—but Yamashita soon became better known as the star of the new law school's moot court.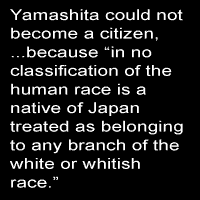 He'd had all of six years in America to learn the ropes. He'd been recruited by pioneering Tacoma restaurateur Kyuhachi Nishii as an 18-year-old whiz kid from Nishii's hometown of Yawatahama. The hamlet on Japan's smallest major island, Shikoku, was about as far off the beaten track as were the muddy cities ringing Puget Sound. A merchant's second son, Yamashita could never inherit property, but even firstborns were bailing out of a Japan undergoing a turbulent transition from a feudal economy. Before boarding the ship to America, the star graduate of Yawatahama Secondary and Uwajima Merinken schools left his parents a note explaining the journey was not for selfish desires but to bring honor on them and "work for the public good."
"Even if others do not act like true human beings," Yamashita promised, "I shall act as a human being."
America treated him like a human being, at first. The talented youth sped through Tacoma High in half the normal four years—earning mediocre grades only in spelling—while living at the Tacoma Baptist Mission and waiting tables at Nishii's restaurant on Pacific Avenue.
The townsfolk had mixed feelings about people who looked like Yamashita. All the West Coast ports competed fiercely, just as they do now, for Japanese trade. But agitators ranted about the threat to U.S. jobs and society from railroad and sawmill workers streaming in from Asia. In the Pierce County town of Sumner, a few weeks after Yamashita started law school, a mob of whites fired shots at an unarmed group of Japanese hop pickers.