Dear Reader:
You and I know it's traditional to have a year-end column from the outgoing president of the UW Alumni Association. The question is, how do I make this of any interest to you? The answer, I hope, is to use frequently asked questions as the basis for this report. Please bear with me while I cover a number of widely divergent areas to see what might hit your hot button: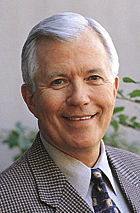 ---

Geoff Vernon, '65. Photo by Jon Marmor.

---
Question: Just how much power do you have as the President of the UW Alumni Association, anyway?
Answer: Far less than most people assume. I was unable to help our members get their offspring into school after they had been turned down; unable to get tickets to sold-out football games; unable to improve parking on campus; unable to shut down The Daily; unable to reduce the number of ads being run at Husky Stadium.
Question: What's the big deal in reducing the UW Alumni Association board size from 85 to 25?
Answer: The big deal is that we now have an engaged board that sets the policies for this organization, helps to establish and promulgate its vision and oversees the organization's performance in line with its strategic and business plans. The new board meets six times a year and its executive committee meets six times a year, so the business of the association is conducted expeditiously and board members know they have a significant contribution to make to the association.
Question: Why did President McCormick create a Vice President for Development and Alumni Relations and how does this affect our association?
Answer: Our executive director reports to two bosses: the President of the UW Alumni Association and, under this new plan, the Vice President for Development and Alumni Relations. The alumni office is not part of development, but we both report to the same vice president. I believe this greatly enhances our ability to work more closely with the administration and our campus partners and I know Dick felt this change was important to underscore how vital the university's alumni are to its achieving all of its objectives. We are already seeing benefits in terms of our strong alliances with various groups on campus. They are helping us to produce more and better events for our alumni and supporting us in performing our mission of connecting our alumni to this university for life.
Question: Haven't heard anything about our new Alumni House. What's going on?
Answer: We have a site in mind that is owned by the University and we hope to put the final details together for its acquisition very soon. The new Alumni House would be the welcome center to the UW. It would enable us to begin connecting with our future alumni the day they first come to campus. Imagine a building that is a beautiful alumni center with state-of-the-art meeting facilities, banquet halls, staff offices with room for growth and a warm and welcoming reception area. Now, please envision a large downstairs public atrium that includes an orientation theater, a coffee shop, a branch of the University Book Store, a Husky Hall of Fame, the arts ticket office and the beginning point for tours of the campus for new students and their families. Pretty exciting, don't you think?
Question: What is the process for hiring the association's new executive director?
Answer: A selection committee has been formed and it will be co-chaired by Jack Faris, Vice President for University Relations, and me. We have engaged Witt Kiefer, an executive search firm with an excellent record of service to help find the perfect executive director. The committee's job is to come up with several outstanding candidates to present to Trish Bostrom, UWAA president for 2000-01, and to the VP for development and alumni relations. The two of them will make the hiring decision.
Question: Who's minding the store while the search is under way?
Answer: The executive committee talked Sheila Manus Vortman into serving as our Executive Director on an interim basis. Sheila was President of the UWAA in 1993-94 and recently retired from Puget Power as its Vice President of External Affairs. She is a proven leader with great knowledge of our association and our university. Our president, Trish Bostrom, is extremely capable and dedicated to the UWAA to the nth degree. Her background as a former president of the Big "w" Club and service on the board of several non-profit organizations provides her with a rare insight into membership organizations and the volunteer experience.
Question: What kind of shape is the UWAA in right now?
Answer: In spite of all the changes in-house and at the UW, we are doing remarkably well. Our relationships on campus are stronger than ever before. We have an incredibly supportive administration, strong alliances with many of the deans and signed partnership agreements with the College of Arts and Sciences and Intercollegiate Athletics. We hope to have another partnership in place with the School of Business in the near future. I cannot overstate how strong our staff is right now; their ability to excel in difficult times has certainly been put to the test and they've passed with flying colors. The association has a strong board, dedicated volunteers and more than 50,000 members. Our financial condition is strong and the future has never looked brighter.
I'd like to offer a personal note here. I owe a great debt of gratitude to more people than there is space to list. But I must thank John M. Meyer and Cory Carlson for their training, advice and counsel. Thanks to David Fagerlie for his hard work that greatly contributed to the reorganization of our staff and board and for his bridge building between the University and the UWAA. I couldn't have asked for more support from our board or our academic, special interest and geographic clubs. A lot of people gave up lots of turf to make our new governance structure a reality. We asked for help from President McCormick and senior members of his administration on numerous occasions and they never turned us down. The UWAA staff always goes the extra mile to support us volunteers. My most sincere thanks to you all.
It's been an eventful and rewarding year and I thank you for allowing me to serve as your president.

Geoff Vernon, '65
President, UW Alumni Association, 1999-2000