ALUMNOTES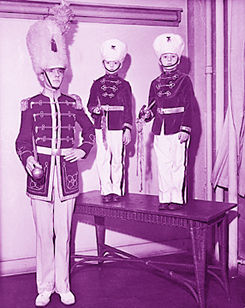 ---

Bob Fuller, the 1934 Husky Marching Band drum major, poses with two drum-major wannabes, Kay Choriton and Anne Murphy. File Photo.

---
Elizabeth Morgenstern Greenebaum, '31
Los Angeles, celebrated her 90th birthday with a gala party of 75 family and friends. She was a member of the first officers training class of the Women's Army Corps in 1942. After graduating, she had a distinguished army career as the only woman in the inspector general's department assigned to inspect WAC detachments at army/air force bases. She has served as a docent at UCLA and on the art service council at the Los Angeles County Museum of Art.
Phil H. Luther, '32, '33
Carlsbad, Calif., celebrated his 91st birthday Oct. 13.
Joseph Rutkowski, '35
Santa Barbara, Calif., has slowed down recently and moved to a senior residence community in downtown Santa Barbara.
Frederick H. Fisher, '49, '57
San Diego, has been selected as a recipient of the Inst. of Electrical and Electronics Engineers Third Millennium Medal by the institute's Oceanic Engineering Society. He is a research oceanographer emeritus at the Scripps Inst. of Oceanography at UC San Diego. During his 40-year career, he researched acoustics in the ocean, chemical sound absorption and eletrolytic conductivity. A former NCAA doubles tennis champion, he is a member of the Husky Hall of Fame.
John A. Henry, '50, '53
Edmonds, is winding down his law practice of 42 years in Shoreline. He served as district governor for Rotary and is active as a Fred Hutchinson Cancer Research Ctr. volunteer. His wife, Carolyn Nelson Henry, '53, '76, recently retired as chair of Shoreline Comm. College's business division. They have three children and nine grandchildren.
Bob Hale, '51, '60
Carlsbad, Calif., retired from GTE Government Systems, in 1993 and recently relocated to Carlsbad after 36 years in Sunnyvale, Calif.
Norman C. Kunkel, '54
Seattle, has been invited to speak to the American Field Service annual assembly in Vitoria, Brazil, about his World War II experiences as an AFS ambulance driver and his time as a liberator with the British forces at Bergen Belsen concentration camp in Germany. His wife, Georgie Bright Kunkel, '68, recently published You're Damn Right I Wear Purple: Color Me Feminist, a story about an emerging feminist, the activism of the 1970s and essays looking back at it all.
Burton E. Bard Jr., '55, '66
Seattle, recently retired as president of the American Cultural Exchange. He has been elected president of the Seattle Sister Cities Assoc.
Fred Griffin, '55
Seattle, celebrated his 40th year as senior instructor of graphic design at the Art Inst. of Seattle. He started his teaching career at the Burnley School of Professional Art in 1959. He is publishing a graphic design book and says he "has no plans to retire yet."
John Dracup, '56
San Francisco, joined Cal-Berkeley as a professor of civil engineering after 34 years on UCLA's engineering faculty. His wife, Kathleen, is the dean of nursing at UC San Francisco. They have five children and seven grandchildren.
Anne Farrell, '57
Seattle, received the prestigious A.K. Guy Award for outstanding community volunteerism from the YMCA on Oct. 31. She is also president of the Seattle Foundation.
Arthur Holt, '57
Naples, Fla., spent 25 years in the advertising field in Seattle, then left to become a Unity minister in 1991. He has been serving Unity of Naples Church since 1992. He was recently promoted to senior minister, and has begun a publishing ministry, Upward Bound Publishing, which he will pursue when he retires from the church in 2001.
Norma J. Wells, '58
Seattle, was one of four recipients of the 2000 Warner Lambert/American Dental Hygienists Assoc. Excellence in Dental Hygiene Award. She is on the faculty of the UW School of Dentistry and director of its Dental Hygiene Degree Completion Program.
Hamilton Cravens, '60
Ames, Iowa, is a professor of history at Iowa State Univ. He teaches and publishes in the areas of American history, the history of science and the history of medicine in the context of U.S. public policy.
Jay D. Decker, '60, '64
Seattle, is still practicing orthodontics and serving on the faculty of the UW School of Dentistry.
Auria E. Rosenberg, '61
Northbrook, Ill., is world languages chair at Phillips Academy in Chicago. Her daughter, Deena, '91, is a first officer with Mesaba Airlines.
Becky Sisley, '61
Eugene, Ore., retired as professor of physical education at the Univ. of Oregon after 35 years. She continues to teach in the reduced tenure program and enjoys masters track and field competition and canoe camping with her husband.
John Dodge, '63
Larkspur, Calif., is vice president at Charles Schwab in San Francisco, directing technology for the company's 365-plus branch offices.
Dorothy M. Meyers, '65, '73
Marion, Mich., retired from teaching but still enjoys literature and writing - especially poetry. She has published nearly two dozen poems over the last three years and was named Intl. Poet of Merit by the Intl. Library of Poetry for 1999 and 2000.
Gladys U. Frazier, '66
Balboa-Ancon, Panama, teaches at the Panama Christian Medical Mission, which was created by her late husband, Dr. Samuel R. Frazier. The mission built a dormitory, named after her husband, for 100 students from the needy rural areas of Panama to live and study. She is also involved in a feeding and medicine distribution program for poor children in seven rural elementary schools.
Michael D. Ryan, '66, '67
Los Angeles, was elected a Fellow by the College of Labor and Employment Lawyers, Inc. He is a partner in the Los Angeles office of Allen Matkins Leck Gamble & Mallory.
Doug Coleman, '71
Renton, recently took the position of director of finance with Jewish Family Service in Seattle.
Ben Albrecht, '73
Lakewood, Calif., joined Multiquip as general manager of operations. His wife, Nancy, is the president of the Classified Senate at Long Beach City College, and secretary of the California Comm. College Classified Senate. Ben and Nancy are semi-avid kayakers and plan to make a trip to Seattle to enjoy the "gunkholing and boathouses in the near future."

Mary Pirnke, '73, '92
Edmonds, is a nurse recruiter at Virginia Mason Med. Ctr., where she is responsible for adding additional support to the nursing recruitment office. She has been with Virginia Mason since 1973.
Emily Marie Wilson, '73, '96
Seattle, recently traveled to eastern Mexico to visit the birthplace and birth siblings of her 8-year-old adopted son, Garret Gariel Richwilson. She continues to operate Emily Unlimited, a personal organizing service, and lead small group tours.
Michael J. Nutt, '74
Cordova, Tenn., is director of materials research for Spinal Innovations. He is in charge of quality assurance, regulatory affairs, facilities, engineering and materials research and testing.
Jerry D. Watts, '74
Santa Fe, N.M., is engaged to his former wife, Lorna Dyer, '68, '70, who recently retired from Northshore School Dist. after 31 years in the Washington public education system. She was one of the top figure skaters in the world (U.S. World Team, 1963-68) and will be relocating to Santa Fe.
Ed Gootzait, '76
Hampton, Va., is a principal with Nascent Technology Solutions, a supplier of engineering and prototyping services and developer of advanced non-destructive testing apparatus.
Mary Anne Perkowski, '76, '81
San Francisco, relocated from Virginia and is glad to be back on the West Coast. She is a senior vice president for Hellmuth, Obata and Kassabaum Architects.
Richard J. Giever, '78
Richland, received the title of Fellow from the American College of Radiation Oncology. He is the first physician in Washington to receive the honor.
Tony Granillo, '79
Seattle, was appointed by Seattle Mayor Paul Schell to the Seattle Human Rights Commission, which advises the mayor and city council on issues of human rights and discrimination. A manager in computing and network operations for Boeing, he also serves on the UW Office of Minority Affairs Visiting Committee.
Douglas Oles, '79
Seattle, has been elected to the governing committee of the American Bar Assoc. Forum on the Construction Industry. He previously served three years as editor of the forum's national quarterly law journal.
Andrea Boughner Reister, '80
Gaithersburg, Md., recently joined the Washington, D.C., office of Covington and Burling. She is continuing practice in intellectual property law, representing clients in the areas of e-commerce, Internet technology, software and drug delivery technology.
Mark Brusich, '81
Seattle, announced the birth of daughter Emily Grace on March 9.
Virginia Harris, '81, '94
Seattle, completed a 3,398-mile, solo cross-country bicycle ride, starting in Neah Bay and finishing at Rehoboth Beach, Del. She writes that she "was so pleased with the enthusiasm, encouragement, interest and kindness offered by everyone along the way who shared my adventure." She is a civil engineer with Symonds Engineering.
Gene Owen, '81
Woodinville, is director of electronic commerce for Webforia, an Internet software company developing online business communities. His wife, Diane, '81, is manager of program development for Evergreen Healthcare in Kirkland. They have three children, Geoffrey, Kristina and Bryan.
Barbara Wiley Cosgriff, '82
Falls Church, Va., is chief of staff and managing director for the president's office of the NASDAQ stock market.
Perry Y. Asher, '84
Monroe, was promoted to assistant city administrator for the City of Monroe. His previous position was director of administrative services for Monroe.
Richard (Hank) Byington, '84
Bellevue, is happily married with a son. His career has evolved from technical communication to software product marketing. He is a product marketing manager for NetManage, based in Kirkland.
Elaine R. Williamson, '84
Fairbanks, Alaska, became a partner in the CPA firm Kohler Summit and Hutchison.
Mary Ann Smith, '84, '86
Tacoma, worked in OB nursing management in a variety of positions from 1986-94. She graduated from the Frontier School of Nurse Midwifery and Family Nursing in 1996, and is now part of a group practice in Group Health's Tacoma facility.
Karen P. Thomas, '85
Seattle, has been busy composing, conducting and performing music all over the globe. Most recently, she was asked to compose a new work for choir and organ by the American Guild of Organists for the 2000 Natl. Convention. Along with her conducting duties, she has done performances of her compositions in England, Italy, Germany, Denmark, Brazil, Canada and the U.S.
Carrie K. York, '86, '91, '92
Mercer Island, was named Washington state's nominee for the American Dental Assoc.'s 2000 Golden Apple Awards, New Dentist Leadership Award. She is the president of the UW Dental Alumni Assoc., teaches part-time in the Department of Prosthodontics and participates in the UW Mentor Program. She and husband Mark Williams have toddler twins, Braden and Elisabeth.
Caroline Dollemore, '87
Seattle, received her M.B.A. from Golden Gate Univ. in May and is currently working with a start-up entertainment company in Fremont.
Peter Donahue, '87
Birmingham, Ala., recently published The Cornelius Arms, a collection of short stories set in Seattle, with Missing Spoke Press. He teaches at Birmingham-Southern College in Alabama, and is married to Susan Green, '88, who attends law school at the Univ. of Alabama.
Jonathan M. Freiman, '87
Gresham, Ore., was named human resources director for Garlock Bearing Divisions, B.F. Goodrich. Previously he was senior human resources manager at Boeing's Portland, Ore., site.
Doug Kallerson, '87
Las Vegas, recently moved to Las Vegas and bought a condo and a new car. He has been driving a city bus for a year while looking for a new job.
Teresa Ann Spellman, '87, '93
Seattle, serves as the corporate compliance officer and director of quality improvement, accreditation and credentialing, for the UW Physicians neighborhood clinics. She plans to marry Tim Gamble, '85, in February. Tim is client services manager for CIRQIT.com in Seattle.

William J. Breitfelder, '88
San Diego, is operations officer assigned to the Navy's Submarine Squadron 11. He works at the shore command, which oversees seven Los Angeles-class submarines, and is in charge of scheduling and planning for the submarines based there.
Tim J. Jewett, '88, '92
Seattle, is a partner at Dykeman Architects in Everett. For the past 3 1/2 years, he led the design team for the modernization of Cascade High School in Everett. He and his wife, Mary, have two children: Matthew, 9, and Samantha, 5.
Richard London, '88
Washington, D.C., has been working as a senior medical officer for the Peace Corps. He and his wife have lived in Morocco, Kenya, Ethiopia, Romania, Czechoslovakia, Mongolia and Bangladesh.
Jonathan M. Voegele, '88
Keizer, Ore., was promoted to state agency director for Oregon for Country Companies Insurance Group.
Janine Lawless, '89
Seattle, was named a Fellow of the Natl. Academy of Elder Law Attorneys.
Robert H. LeDoux, '89
Bellevue, was promoted to lieutenant commander in the U.S. Navy. He has been stationed at Puget Sound Naval Base in Everett, where he will be the flag secretary for Admiral Balisle aboard the U.S.S. Abraham Lincoln.
Kirsten Dugan, '90
San Antonio, and her husband, Gary, welcomed their second child, Joshua Jay Dugan, on July 30. They also have a daughter, Alexa Nudelman. They have started an Internet-based business that sells weight loss, nutritional and personal care products.
Dain Jones, '90
Seattle, will be back on patrol in north Seattle after teaching CPR and first aid to Seattle police officers and recruits. His wife, Kimberlee, '95, was promoted to creative services coordinator at KOMO-TV.
Anneke Louisse Hagen, '91
Seattle, relocated from San Francisco to Seattle to work as project architect at Gensler's newest office.
Linda O'Connor, '91, '92
Seattle, is science dept. chair at Northshore Jr. High School where she has taught since 1992. In 1998 she was awarded the Immunex Crystal Award.
Callie A. Ridolfi, '91
Seattle, has owned and managed Ridolfi Engineers for 10 years. She also keeps busy as chairperson for the People for Salmon, which promotes restoration of salmon habitat.
Michael Kanemoto, '92
Reston, Va., moved to Virginia this summer after living and working in Hawaii. He married Heather Kuroiwa of Kailua, Hawaii, in May. Before coming stateside, he worked at the 692d Intelligence Group at Hickam Air Force Base.
Camille B. Salant, '93
Folsom, Calif., married Robert L. Kanofsky, a district manager for Harley Davidson. Camille recently left Price Waterhouse Coopers and now teaches at Will Rogers Middle School and volunteers with the Boys and Girls Club of Sacramento.
Carol Bolt, '94
Seattle, had her new book, The Literary Book of Answers, released in October. Her original book, The Book of Answers, is in its sixth English language printing and has been sold in Germany, Italy and the United Kingdom.
Nicole Christie, '94
Bellevue, is working as a free-lance writer, producing articles and essays, Web content, and copy for a variety of corporations. Her husband, Scott Ottinger, '94, is a manufacturing engineer with Medtronic Physio-Control.
Kris L. Crumpton, '94
San Diego, is completing her doctorate in clinical psychology at Alliant Univ.
Yun Kyong Kim, '94
Bloomington, Ind., is a doctoral student in organ performance at the Indiana Univ. School of Music. She recently earned third prize in the national young artists competition in organ performance put on by the American Guild of Organists.
Susan Matt, '94, '99
Mercer Island, was elected president of the natl. board of trustees of Self Help for Hard of Hearing People. She has been a member of the board of trustees since 1996 and served as vice president for two terms before becoming president.
Lars Pedersen, '94, '99
Mill Creek, is the general manager of the University Tower Hotel (formerly the Edmond Meany Hotel). "It's great to be back in the 'U' District," he writes.
Julia Foxford Ramos, '94
Seattle, married Chris Ramos, '94, in July 1999. The two honeymooned in Maui and Kauai, Hawaii.
Keith Sato, '94
Tokyo, is in Japan working as a trader of Japanese equities for Nomura Securities.
Jennifer K. Delles, '95
Renton, married Russ Crutcher, '96, on Aug. 19 in Carnation. Jennifer manages the 45th Street Clinic Pharmacy in Wallingford. Russ is an industrial hygenist.
Lisa Jill Dickinson, '95, '99
Spokane, has relocated from Colorado Springs, Colo., to Spokane. She is an associate at the law firm of Feltman, Gebhardt, Greer and Zeimantz.
Catherine (Kate) B. Miller, '95
Berkeley, Calif., recently graduated with a master's in public administration from San Francisco State Univ. She is a transit planner with the Metropolitan Transportation Commission.
Dace Campbell, '96
Seattle, married Susan Tanney, '99, in August 1999. He was promoted to associate at NBBJ Design in March, and became a licensed architect in August.
Jonathan Karnes, '96
Suisun City, Calif., is a C-5 Galaxy pilot at Travis Air Force Base in Northern California.
Michelle D. Starkey, '97, '99
Snohomish, is a teacher at Bellevue High School.
Catherine H. Gordon, '97
Seattle, was married to Geoff R. Austin, '98, on July 29.
Melissa Mitchell, '98
Everett, is a financial adviser for Pacific Capital in Bellevue and is engaged to Erik Larson, a commercial real estate broker for Raskin and Associates of Kirkland. Their wedding is set for Dec. 2.
Julia Christman, '99
Seattle, is an analyst with Pacific Horizon Ventures.
Kimberly Denny, '99
Kent, works in community outreach for Sound Transit and is a member of the Kent Sunrise Rotary.
Rich Gonzales, '99
Shoreline, spent the 1999 football season as the media relations graduate intern for the Denver Broncos and worked on the media relations staff for Super Bowl XXXIV in Atlanta. He spent two weeks as a media relations intern for the New York Giants before moving back to Seattle to become a public relations assistant for the Seattle Seahawks.
Renee E. Grandi, '99
Colville, is a second-year medical resident at Family Medicine Spokane in the rural training track. She and her husband, Craig Anderson, live with their daughter, Morgan, in Colville.
Nathan D. Kile Jr., '99
Seattle, is an interactive art director and recently purchased his first home. He and his wife honeymooned in Hong Kong and Bali.
Kara M. Schliz, '99
Seattle, started her second year of law school at Seattle Univ.
David E. Vowels, '99
Gulf Breeze, Fla., finished his first year of residency in orthotics and has started prosthetic residency in sunny Ft. Walton Beach. He writes, "Thanks for the great education, U-Dub."
---
Submit a Class Note
Tell us what major events have happened in your life: a new job, marriage, children, retirement, advanced degrees, you name it.

Submit an Obituary
Please let us know if a UW alumnus has died. Be sure to include date of death, place of death and age along with the UW class year (if known).

Update Your Records
Moving soon or know someone else who has? Let us know so that we can keep Columns coming to you.

Contact Information
Columns Magazine
1415 N.E. 45th Street
Seattle, WA 98105
Phone: (206) 543-0540
Fax: (206) 685-0611.
E-Mail: columns@u.washington.edu