Online Archives - 2005 Issues
---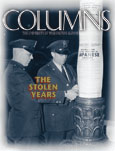 December 2005
Stolen Years—the untold story of Japanese American UW students forced to internment camps during World War II. Also, UW's disaster relief experts; a breakthrough for dangerous minds; and science breakthroughs on an obscure northwest island.

September 2005
Common Ground—What began as a protest became a monument to diversity and determination. Also, lessons from Chernobyl; UW's revolutionary digital arts program; and solving the puzzle of how to shrink the university.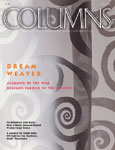 June 2005
Dream Weaver—Jack Larsen's fabrics have graced the world's most inspiring places. Also, a look at Iraq from Husky grads; and the University of Washington recognizes seven top professors and others.

March 2005
Wake-up Call—Can cell phones damage DNA in the brain? Also, a look at new UW Football Coach Tyrone Willingham; reflections from acting grads who left the stage; and the future of the UW's Tacoma and Bothell campuses.