Online Archives - 2004 Issues
---

December 2004
Over the Top—the world's largest forest research crane is helping unlock secrets of old growth. Also, a collection of UW memories; transforming Tacoma; and coaching teachers.

September 2004
Gates' Way—Bill Gates Sr. reflects on his past and the UW's future. Also, raising the stakes to build a better university; ten things you probably didn't know about UW; and striking a nerve.

June 2004
The Homecoming—Mark Emmert rose from a modest background to success at two public universities. Now he faces the greatest challenge of his career—president of his alma mater. Also, from farm girl to astronaut and honoring the "Class of Disctinction".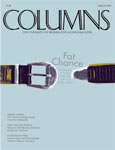 March 2004
Fat Chance—Stomach bypass surgery for the super obese is more than a fad. Also, restoring wetlands at UW Bothell; a look at UW Rhodes Scholaers past and present; and recreating modern dance classics.