Online Archives - 2000 Issues
---
December 2000
Bones of Contention—The battle over Kennewick Man pits those who want to study the 9,000-year-old remains against those who want to bury them. Also, the saga of the UW's first Japanese law school graduate; the woman behind the Summer Arts Festival; and cancer cell mutation research.

September 2000
A Place to Call Home—Defying naysayers, UW Bothell finally has a stunningly-designed permanent campus in a unique setting. Also featured: public schools reformer Rudy Crew, debate over Caesarean delivery and an account of two UW-related shootings that left a grief-stricken campus.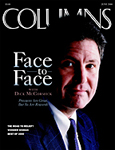 June 2000
Face to Face—After five grueling years, President Richard L. McCormick still loves his job—and plans to stick around a lot longer. Also featured: traffic solutions, wonder woman Rita Colwell and the best teachers, volunteers and staff of 2000.

March 2000
Breaking Down the Walls—Once bitter feelings between town and gown have become downright neighborly, just in time as megaprojects take aim at the 'U' District. Also featured: a Charles Odegaard memorial, air travel stress research and undergraduate researchers in Alaska.