Online Archives - 1998 Issues
---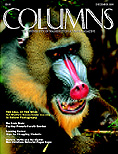 December 1998
Photographer Art Wolfe, '75, explains how he chose his profession, his formative years at the UW and how he took those award-winning shots. An article on the "brain drain" looks at the UW faculty pay gap--14 percent and rising--what it will take to stop the bleeding. In another article, UW Anthropologist Rodney Stark debunks past theories on why Christianity came to dominate the Roman Empire. A final feature examines new research on learning disabilities--including genetic testing and brain imaging.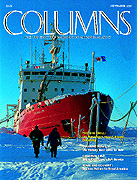 September 1998
The September 1998 issue of Columns features a cover story on an icebreaker frozen into the Arctic ice cap to study global climate change. Also, Part Two of our magazine history retrospective, "Columns Turns 90" is included. Other articles include a look at UW Men's Basketball Coach Bob Bender and a UW effort to keep doctors practicing in rural America. The Web version of these articles has extra information not included in the print version.
June 1998
The June issue celebrates the 90th anniversary of the magazine with a special feature covering UW history during the the period 1908-1959. Another anniversary special is "The World of 2088," which contains predictions from UW faculty and alumni on the world 90 years from today. Our profile of Shirley Malcom, the Alumna of the Year, and brief profiles of all the 1998 UW teaching and public service award-winners are also posted. All of the electronic versions have more information than print versions of the same article.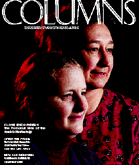 March 1998
Currently on-line are all feature articles: an update on UW Nobel Prize-winners, a look at the bonds between faculty and students doing research, and an article on how the UW helps prevent physical setbacks for the elderly. Also on-line are the many letters to the editor written in response to our controversial, award-winning cover story, "Seeing Red," published in December.