Online Archives - 1997 Issues
---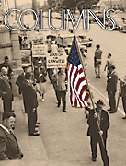 December 1997
Our controversial, award-winning cover story on McCarthy-style hearings at the UW, "Seeing Red", continues to be one of the most widely read articles we've ever published--as are the many, many letters written in response. Other features cover an experimental car that runs on liquid nitrogen; new, state-mandated standards for higher education; and the top-ranked creative writing program at the University.

September 1997
Feature articles include at look at the grand opening of the new UW Tacoma permanent campus, a profile of UW alumnus Kent Weeks--he made the most important discovery in Egypt's burial grounds since King Tut--research into genetics and weight loss, and a look at how UW scientists make short- and long-term climate predictions.

June 1997
The June 1997 issue includes a profile of the 1997 Alumnus of the Year: Artist Chuck Close. Other articles cover professional sports' impact on the economy, the lives of patients at the UW Clinical Research Center, and a look at the best UW teachers and public servants of 1997. Letters to the editor, news articles and class notes are also available.

March 1997
The March 1997 issue includes features on the drop in the crime rate in America, the new expansion to the Henry Art Gallery and the discovery of the oldest Buddhist texts in the world. Letters to the editor, news articles and class notes are also on-line.