Online Archives - 1996 Issues
---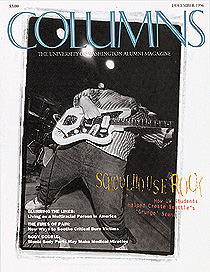 December 1996
The December cover story is a feature on grunge rock at the UW--including a performance by Nirvana, the birth of Soundgarden and UW ties to other bands such as Mudhoney, Presidents of the United States and Screaming Trees. Other articles include a feature on soothing burn victims' pain, a look at the plight of multiracial Americans, and coverage of medical implant research.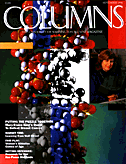 September 1996
Features include a profile of Mary-Claire King, a world renown geneticist who is leading the effort to defeat breast cancer; a look at the growth of the Husky women's sports program; an interview with two finance professors on how they teach investments (including the Top 10 Investing Web Sites); and an article on how past research for war has started producing "peace dividends.".

June 1996
Feature articles include a look at the rising threat from infectious diseases; a profile of Nobel Prize-winner Martin Rodbell, Class of 1954; and an examination of the reasons behind Americans' mistrust of their government. We also include brief profiles of the top teachers and public servants for 1996—maybe one of your old professors is listed?

March 1996
Features include articles on the wave of students coming to higher education, new discoveries due to new technologies in astronomy, and a look at a controversial treatment for addiction—harm reduction.