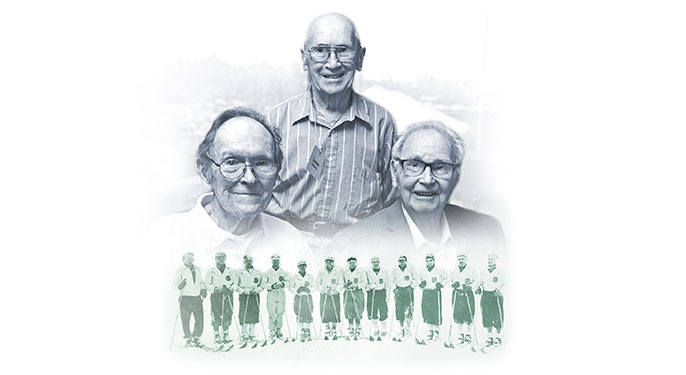 Ski Amigos
Maybe it was the mountain air.
Three members of the UW's 1936 Ski Team had long histories on the snow and, though they have only recently stopped skiing, they are still sharing their stories of skiing back in the early days of the sport in the West. The teammates recently met up at Harold Stack's, 37, (left) 100th birthday party.
Harold, who met his wife Trudy, '38, while skiing at Mount Baker, has fond memories of leaving campus early in the afternoon and getting up to Snoqualmie with time enough for a few hours on the slopes before dark.
Lonnie Robinson (center) raced in Europe after graduation and had to beat a hasty retreat out of Germany after the Poland invasion in 1939. Now 99, he taught skiing until he was 91 and stopped skiing at 95.
John Woodward, who turned 100 in February, was a well-known racer as a student, trained U.S. Army soldiers to ski and climb in alpine conditions during World War II, and went on to a career in skiing, running ski schools, managing the UW's ski shop, and then becoming a partner in Seattle's Anderson and Thompson Ski Company. He returned to racing after retiring in 1975, and skied for another 35 years.
This picture of the ski squad (circa 1936), shot at Paradise on Mount Rainier, shows many of the team members and ski manager, Paul Duncan. "We would ski any place we could find snow," says Stack, who recently shared some photos and memories with Columns magazine.
They had wooden skis, canvas jackets, and britches tucked into their socks. With limited funding, the men supplied most of their own gear. But the University helped pay their way up to Vancouver and down to Oregon to compete. Some of the courses were so rugged, the skiers would have to sidestep up the hill to groom the course. Depending on the course, they also had to hike and climb up to the top of their hills before skiing down.
"When they came up with resorts and rope tows, we could get in more skiing in an afternoon than we could in a week before," says Stack. "We thought we had died and gone to heaven."
In 1936 the Huskies won the Pacific Coast Intercollegiate Championship at Yosemite National Park. They returned to do it again the following year.
Once on a trip to ski in Sun Valley, Stack and a few of his teammates stumbled into a production of Sun Valley Serenade, a movie starring Sonja Henie. "We met one of the producers and he offered us free tickets if we skied for the film," says Stack. They were in the night scene carrying torches, so you can just see their silhouettes.