The Swing's the Thing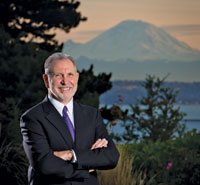 IN THE BOYS IN THE BOAT, DANIEL JAMES BROWN'S RIVETING account of the Husky crew's quest for Olympic gold, he reports a phenomenon that has been resonating with sports teams as well as business organizations: "There is a thing that sometimes happens in rowing that is hard to achieve and hard to define. Many crews, even winning crews, never really find it. Others find it but can't sustain it. It's called 'swing.' It only happens when all eight oarsmen are rowing in such perfect unison that no single action by any one is out of sync with those of all the others…. Poetry, that's what a good swing looks like." Maybe our crew's tradition of swing is contagious; I certainly see that kind of group poetry all around the UW and coursing through our history. It may account for our success across so many dimensions.
Of course, it all begins with the talent and drive of our faculty. Every day, on every continent, UW faculty members educate, serve and seek solutions to our world's greatest challenges, often through harmonious collaborations that are the envy of other institutions.
We're also fortunate that for more than a century the UW Alumni Association has brought extra strength and swing to our mission. By the time Washington became a state in 1889, a small group of alumni had already formed the UWAA to pull for the University they loved. Now, as the association celebrates its 125th anniversary, members number in the tens of thousands, with dozens of local chapters around the world. That is a lot of oars, all synchronized by the UWAA.
With the power of our faculty and the sustained help of our alumni, the UW has become one of the top research universities on earth, rising to the standard set decades ago by our crew. Our talent for swing keeps showing up in many different places around the University:
By getting in sync with the power of private enterprise, we are increasingly passing along the results of our world-class research to the real world, where it can serve humanity. Last year this produced a record-breaking 18 new startup companies based on UW research.
Our attention to job satisfaction and employee well-being has earned us recognition by the Chronicle of Higher Education as one of America's "Great Colleges to Work For."
We continue to be the home of one of the nation's elite academic medical centers. This year's rankings by U.S. News & World Report put the UW School of Medicine No. 1 for overall primary care training and rated the UW Medical Center as one of the best hospitals in the United States.
For the fourth straight year, we've made the Princeton Review's "Green Honor Roll" of sustainable colleges, scoring a perfect 99 points. This is a wonderful tribute to a conscientious community that cares deeply about our environment. A university that swings like ours inevitably attracts financial support from those who share our important goals.
Private donations to the UW are way up, with more than 100,000 donors contributing a record-breaking $482,452,318 over the past year. This money will support an array of programs in FY14-15, from student scholarships to scientific breakthroughs.
A new collaboration with the Washington Research Foundation (WRF) provides more than $31 million—an unprecedented investment—to launch a postdoctoral fellowship program for the Institute for Protein Design, jumpstart an Institute for Neuroengineering, accelerate discovery at the eScience Institute, and recruit innovative faculty and postdoctoral fellows to our Clean Energy Institute. Most exciting is the venture-based approach to the funding: the WRF seeks to support faculty creativity and flexibility in order to move innovations more rapidly to their life-changing applications and commercial viability.
By combining their time, talent and treasure, our faculty, staff, students, alumni and donors are pulling in unison to build on the UW's historical momentum and surpass the high expectations we and others set.
Thank you for being a part of our shared vision and commitment to the greater good. Swinging together, we are making a difference.


Michael K. Young, President