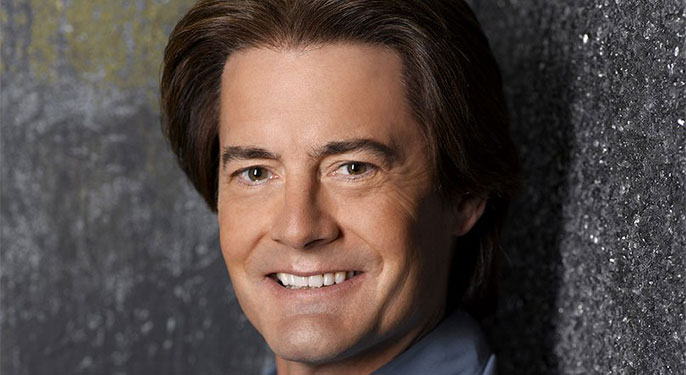 A UW Star is Born
Actor Kyle MacLachlan reflects on Purple and Gold roots
The UW literally set the stage for Kyle MacLachlan's first professional acting job. During his 30-year career, MacLachlan, '82, became famous for playing colorful movie and television characters such as Twin Peaks' coffee and cherry pie-obsessed FBI agent and the homicidal husband on Desperate Housewives. The role that started it all, however, only required a walk down the hall.
"I was an extra in a movie shot on campus called The Changeling (1980) starring George C. Scott. I was paid $10 to walk up some stairs," says MacLachlan. "It was my first movie experience and I had no clue what was going on, but I remember thinking it was kind of cool."
Purple and gold are in his DNA. His parents are Husky alumni who met and fell in love as students. MacLachlan participated in local theater growing up in Yakima, Washington, but truly caught the acting bug as a student of the UW's Professional Actor Training Program. It was a rigorous, three-year experience–rehearsals for three hours in the morning and most weekends.
"We shared a building with the campus police department. At one end of the corridor we were causing anarchy, a lot of yelling and screaming, and they were at the other end trying to keep everything under control and running smoothly. They were kind, but probably thought we were crazy," chuckles MacLachlan.
For a time, MacLachlan lived in an apartment near the College Inn Pub where he frugally enjoyed French fries for dinner. The location allowed him to expand his studies outside of the classroom. He rode his bicycle to local movie theaters such as the Neptune and Guild 45th. The Three Musketeers was a favorite since students were taught the stagecraft of sword fighting. He credits the years of diverse schooling for providing a solid foundation in later years.
"My first leading role was in a play called The Corn is Green about coal miners in Wyoming," says MacLachlan. "It sort of gave me the experience of what it's like to really carry a show."
From being an extra to a leading man, MacLachlan is a memorable presence onscreen. Regardless of a young person's field of study, he cites the college experience as a valuable journey for a young person to form themselves both personally and professionally.
"I think college helps fill the gap of life experience at that age. It's the real world, but maybe a slightly softer version," he says. "I was fortunate to follow my passion in a place where I could really flourish."