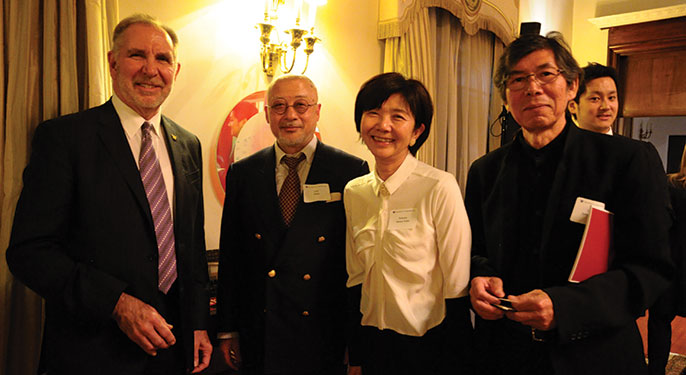 MASAHIRO KAWANA
Our World, Our Responsibility
WE ARE REMINDED every day what a globally interconnected world we inhabit and how the Internet and increased travel have brought all of us closer. We are also reminded, as we absorb the news from around the world, how vitally important it is for the people inhabiting this planet to get to know each other better—our thoughts, our cultures, our ways of living, our beliefs and biases. We at the University of Washington have been in the business of learning about other parts of the world almost from the beginning and certainly since at least 1909, when the precursor to our Henry M. Jackson School of International Studies was established as the "Department of Oriental Studies" under Professor Herbert Gowen. Since then, our community's interest in other parts of the world has grown exponentially. Today, we lead the nation in the number of federally funded National Resource Centers, in which we bring together faculty from various disciplines—history, political science, economics, sociology, language and literature, to name a few—to educate our students about the different regions of the world. Our eight centers span the globe from Latin America to Asia to Europe and the Middle East. The study of any people and their culture often starts with learning their language, and this is another UW strength. Our faculty teach dozens of the world's many languages, from Hindi to Turkic to Norwegian and Mandarin. All of this is intended to educate a generation that is better attuned to the nations that comprise our international community and better informed about the needs and desires of people in different parts of the globe.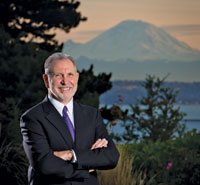 Another significant way to enhance international understanding is to create opportunities for our students to experience firsthand other nations and cultures and, reciprocally, for students from those cultures to experience our country. This is why we have worked so hard in recent years to expand study-abroad programs for our students. We now have more than 2,000 students a year living and learning in a foreign country. Opportunities like these may explain why the UW leads the nation in the number of alumni volunteering in the Peace Corps. They also stimulate interest in our Bonderman Fellows program, which annually sends selected graduates to explore on their own distant parts of the world. Our international-student population has also been growing, giving students from other countries a chance to learn in our uniquely American higher-education environment. They also get to meet and know young Americans and learn about our culture and its heritage of democracy and freedom. This cultural dimension is an important element of an international student's experience here and one whose impact is hard to measure or assess in the long run. Having spent a substantial part of my academic career founding and directing Columbia University's Japanese and Korean Law programs, I can attest to the innumerable benefits that accrue when students interact with and learn alongside students from other countries and cultures. It leads to understanding, collaboration and friendship. Indeed, one could make the case that American international relations would be significantly enhanced if more of our citizens could study in a multinational environment such as that fostered by study abroad and international exchange.
I recently made my first visit to Asia as president of the UW. On stops in Seoul, Taipei, and Tokyo, I met with numerous civic, business and education leaders and came away with some new and renewed insights. First, many of our international students return to their homelands and move into positions of increasing responsibility in government, commerce and education. In each city, we have active and enthusiastic alumni groups of loyal Huskies who are the movers and shakers in their respective countries. To a person, they remember fondly their time as students at the UW; their American experience shapes, in a positive way, their global outlook. There is no better argument for continuing to educate the world's students than spending time with those who have earned their degrees here and are now in leadership positions back home.
It was strikingly apparent that these Asian nations are investing heavily in their higher education systems. They understand what we have understood for some time—that the capital of the future is human, and that if they are going to compete in this century's economy, they are going to have to build universities that can deliver high-quality education to their young people. American higher education for many years has been the envy of the world, combining in a unique way the excitement of discovery—our research mission—with education. No other nation has done this so well. One need only look at the line of American Nobel Laureates that have been university professors extending the horizons of human knowledge, educating students and training the next generation of researchers at the same time. The rest of the world is now figuring out how we do that, and they are embracing the American model. Ironically, they are pouring resources into higher education at a time when the U.S. has dramatically cut public support for its colleges. Over the past four years, the nations of Asia have made great strides to close the higher education gap. For this—and other reasons—it was especially gratifying to see our recent state Legislature reverse the four-year trend of disinvestment and begin the long and challenging trek back toward a more sustained and meaningful investment in higher education. This was a very important step, whose significance should not be underestimated.
The UW's position as a leading global university also comes from the research our faculty are doing every day on every continent, looking for cures for diseases, bringing treatments to impoverished populations, mining the knowledge of ancient ruins, and helping to analyze the global economic ups and downs. As a first-tier world university, it is incumbent upon us to be thus engaged. Going forward, our work in this regard will become even more focused as we welcome this fall a new Vice Provost for Global Affairs, Jeffrey Riedinger (Law, '80). Jeff is a Seattle native who is returning home from Michigan State University, where he has led its global affairs office for the past eight years. His job will be to make all of what I have discussed here bigger, better, and more integrated in everything we do. I can hardly wait.


Michael K. Young, President