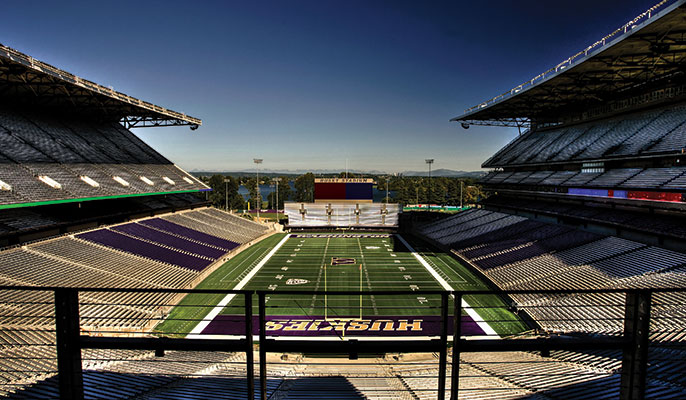 Michael Moore
Whole New Ballgame
After a $261 million privately funded renovation, Husky Stadium reopens Aug. 31, welcoming a fired-up Husky nation mad for football and excited about the prospects for the future
WHEN JIM LAMBRIGHT FIRST SET FOOT IN HUSKY STADIUM ON OCTOBER 6, 1956, THE 14-YEAR-OLD EVERETT NATIVE COULD NOT HAVE IMAGINED HOW MANY TIMES HE'D BE BACK. HUSKY STADIUM TENDS TO DO THAT.
"We sat in one of the lower seats, and I was so impressed with how big it was," says Lambright, '65, who attended the game with three friends and remembers changing seats about 10 times to get as close to the players as he could. In front of 36,261, the Huskies beat nationally-ranked Illinois 28-13 and Lambright walked out of Husky Stadium vowing to return again soon. "I said to myself, 'This is a big-time stadium in a big-time town.' "
Five years later, Lambright signed a letter of intent to play football at the University of Washington under head coach Jim Owens. For the next 44 years he would call Husky Stadium home as an all-conference defensive end, assistant coach and longtime defensive coordinator under Don James and, ultimately, head football coach for six seasons from 1993-99. "For me, each step was like a dream," says Lambright, now 71. "This is the place that I played, that I coached, that I won a national championship."
This fall, the UW's iconic stadium re-opens after a 21-month, privately funded, $261 million renovation that will change the landscape of Husky football forever. Premium seating options are in and the large oval track is out. The field has been lowered four feet to bring fans closer to the action than ever before. State-of-the-art upgrades are everywhere, from enhanced concessions and roomier restrooms to the 70,000-square foot Football Operations Center and sports medicine clinic integrated into the west end zone. Reborn for a new era, Husky Stadium offers fans and student-athletes a first-class experience befitting a world-class institution.
"It shows our commitment to excellence here at the University of Washington," says Athletic Director Scott Woodward. "The stadium needed to be rehabilitated, and we wanted to do it in a way that respects the history of the old Husky Stadium but gives us the advanced features and connectivity we needed. We've shown this venue to our recruits and their parents and they've just been blown away."
A lot is changing with the new stadium, but a lot is staying the same. Additions include covered patio suites, luxury suites and the new Club Husky, which allows fans to enjoy the game from an exclusive outdoor viewing deck, among other perks. A 200-stall parking garage below the south bowl has been added along with permanent seating and a 108-foot wide high-definition video screen in the east end zone.
Fans will marvel at how much the new stadium looks and feels like the old one. This isn't your father's Husky Stadium, but he's going to be ecstatic about the changes.
"There is no better setting in sports, not just in football, than Husky Stadium," says UW head coach Steve Sarkisian, who has guided the Huskies to three straight bowl games and is looking to contend for the Pac-12 North title in his fifth year at Washington. "When I go to work in the morning, driving across 520, to see the jaws there is one of the reasons I took this job. I made that drive as a player, as an opposing coach, and now as the head coach, and it's always exciting."
Like so many games before it, the Aug. 31 season opener against Boise State is a can't-miss moment for Husky fans. Come early, explore the new stadium, and then find your seats for a season unlike any other in Husky Stadium's storied 93-year history. "It's going to be a big night," says Don James, the Hall-of-Fame coach who led the Huskies to the 1991 national championship and served on the renovated stadium's 12-person advisory committee. "I wouldn't miss it for the world."
In 2006, University officials began discussing a major renovation to Husky Stadium with an estimated cost of $450 million. For several legislative sessions, the UW tried, unsuccessfully, to lobby state lawmakers to help it collect $150 million in public money. But that wasn't the will of the legislature, Woodward says. Undeterred, the UW moved quickly and reduced the scope of the project to $250 million while announcing plans to raise the funds privately.
To pay for the stadium, the UW is drawing on a loan from the university's internal lending program that will cover the total cost of the project minus the total of private donations. Thirty-year bonds will be sold to finance the renovation. To cover $200 million, the school needs to generate an estimated $14.3 million annually through new revenue sources associated with the stadium, including premium seating options and sponsorship opportunities. The remaining $50 million was raised privately through the philanthropic "Drive for Husky Stadium" that launched in 2010. Neither the state nor the UW contributed money to the project. But make no mistake, Woodward says, this is still a public facility.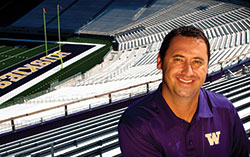 "It may be privately funded," he says, "but there's a lot of things that are going to happen in this great stadium, whether it's graduation or charity events or camps for kids. It's going to bear many fruits for years to come."
JAMES KNOWS BETTER than most that Husky Stadium's history is as bright as its future. On Nov. 27, 1920, the University debuted its football stadium with a 28-7 loss to Dartmouth. Tickets to the game sold for $1 and students wore purple and gold hats that formed a giant "W" in the stands. Gov. Louis F. Hart and UW President Henry Suzzallo spoke to the crowd during a short dedication and soldiers from Camp Lewis fired a salute from a 75-millimeter cannon as a seaplane swooped over the field.
Six-year-old Burr Odell, '37, attended the dedication game with his father. Seated among thousands of boisterous UW fans, the Odells cheered for the visiting team out of his father's loyalty to the Ivy League (he graduated from Cornell). After the game, as fans filed slowly out of the stadium, Odell asked his father why everyone was so upset. He was astounded to hear that most people had favored the hometown Huskies.
On their way to and from the stadium that day, the Odells had walked across a temporary pontoon bridge that was later replaced by the Montlake Bridge. It's a walk many Husky fans have taken in the decades since, and Odell's love for the Huskies grew from there. He enrolled at the UW at the age of 15 and graduated a proud Husky in 1937. One of the last surviving alumni to attend the Husky Stadium opener in 1920, Odell cheered for the Huskies for another 90 years until his passing in 2010.
Lambright's early trip to Husky Stadium was equally transformative, setting the stage for a lifelong relationship with the University. Stories like this are common among UW alumni and fans. John Baker, '55, grew up in the University District and rode his bike to Husky Stadium as a junior high student. He was a Boy Scout who served as a stadium usher and still remembers the old grass field and how the grounds crew watered it down before each game. "That would slow USC down," Baker says jokingly. He's been a season-ticket holder since 1959.
Husky football games welcome more alumni like Baker back to campus each year than any other event. The sounds of "Tequila" being played by the Husky Marching Band and the chants of "Go!" on one side of the stadium followed by "Huskies!" on the other is the soundtrack to our Saturdays. But there's so much more to Husky Stadium than just football. Each spring, it hosts the UW commencement ceremony, and there are numerous community events held here throughout the year. "Husky Stadium is a true 'front porch' for the University," says UW President Michael K. Young. "It has been and will always remain a place where people come to celebrate, to engage and to develop a deeper appreciation for their university."
Originally called Washington Field (it didn't become known as Husky Stadium until the 1960s), the stadium quickly became the envy of the football world after it opened in 1920. Following the Alaska-Yukon-Pacific Exposition that introduced Seattle to a national audience in 1909, the UW looked to expand the reach of its growing campus. The football team was playing its home games at nearby Denny Field, but the Board of Regents wanted something bigger and selected a parcel of land near Lake Washington to house the school's first stadium.
The stunning 30,000-seat facility was completed in just six months. To help with the $600,000 price tag, a statewide fundraising effort sold commemorative plaques for $50 and $100, and UW students pitched in by doubling the student fee they paid from $5 to $10. There currently are no student fees.
In 1936, 10,000 seats were added, bringing capacity to 40,000. The south side upper deck was built in 1950, and Washington was the first major college in America to install AstroTurf as part of the 1968 renovation. In 1987, the final upgrades were made with the addition of the north side upper deck, bringing capacity to 72,500. That project made headlines when the cantilevered roof collapsed during construction in February. It was rebuilt in time for the season opener in September.
For the next three decades, Husky Stadium remained relatively unchanged. But its crumbling concrete walkways and bleachers pointed to larger structural issues that could not be ignored.
Following an emotional farewell game against Oregon on Nov. 5, 2011, the Huskies played the Apple Cup and all of their 2012 home games at CenturyLink Field, home of the NFL's Seattle Seahawks. Woodward calls the overhaul "not a choice, but a need," and the renovation began two days after the final game with the complete demolition and reconstruction of the lower bowl and north side stands.
SUSTAINABILITY WAS A priority for developer Wright Runstad & Company from the very beginning. More than 26,000 cubic yards of recycled concrete were used as fill on the new site, and more than 1 million gallons of water were cleaned prior to discharging off-site, making the new Husky Stadium a Salmon-Safe project. The old FieldTurf was donated to Seattle Pacific University's soccer stadium, and the Football Operations Center that includes locker rooms, team meeting rooms, recruiting lounges and coaches offices, earned LEED Silver Certification, with some areas earning Gold Certification, for energy efficiency.
"I've been really impressed with what they're getting for what they're paying," says play-by-play announcer Bob Rondeau, who has covered the Huskies since 1978 and is looking forward to the new press box. "There's something for everybody in this renovation. Great thought has been paid in all the right places."
Sarkisian's office is the centerpiece of the Football Operations Center. Ceiling-high windows look out across the field toward Lake Washington and open onto a patio deck where the coaches' families and key recruits will sit on game days. There's a private room for watching game film, and a video game console is connected to the mammoth Husky Hi-Def video screen that replaces the aging HuskyTron.
"Kids today are looking for the bells and whistles," says former UW quarterback Warren Moon, MVP of the 1978 Rose Bowl game. "No question, this is going to get us back on track, and not just with football players. All of the people that come to this school are going to see a stadium that's state-of-the-art."
OVER THE YEARS, the UW has won 70 percent of its games at Husky Stadium (298-126-21). Against conference foes, the Huskies have fared even better, winning 74 percent of their games. Legendary players like Hugh McElhenny, Bob Schloredt, Sonny Sixkiller, Steve Emtman and Napoleon Kaufman dazzled fans and frustrated opponents, turning Husky Stadium into one of the toughest places to play in America.
Then there's President Warren Harding, who gave one of his final speeches here before dying suddenly of a heart attack in 1923. Charles Lindbergh visited in 1927 just four months after he flew the world's first solo, nonstop flight across the Atlantic Ocean. Former President Ronald Reagan opened the 1990 Goodwill Games at Husky Stadium, and on Halloween 1981 then-UW cheerleader Robb Weller, '72, and Husky Band Director Bill Bissell debuted "The Wave" during a 42-31 victory over Stanford and John Elway.
"You go back to the great gathering places of Western civilization and they are community venues first and foremost," says Woodward, who knows a thing or two about great stadiums having come to UW from Louisiana State University and the Tigers' vaunted Death Valley. "Husky Stadium is one thing we all have in common. It brings us together with a true sense of commonality."
For nearly a century, Husky Stadium has woven its tales into the University's fabric. The iconic metal roofs make it one of the most recognizable landmarks in the Northwest, while its sweeping views of Lake Washington and the surrounding mountain ranges consistently earn Husky Stadium nods as the most scenic stadium in the country. It's also one of the loudest, and that's by design. Almost 70% of the seats are located between the end zones, where the noise reverberates off the cantilevered roofs above and onto the playing field below.
When James first started coaching in the 1970s, college football rules actually protected players from deafening crowd noise, which was considered bad sportsmanship at the time. If the fans were being too loud, James says, the quarterback could signal the referee, who would stop play and make an effort to quiet the crowd down. When that rule vanished (thankfully) in the 1980s, James took it upon himself to turn the volume up on Husky Stadium.
"I went to the fans and the press and said 'These teams don't get to come in here and hear the snap count. Let's make it loud in here,' " he recalls. "From then on, I saw the stadium grow and the program develop. The support came and the team continued to play well." Now, noise is part of the game day experience. During the 1992 night game against Nebraska, ESPN measured the noise level inside Husky Stadium at a record 130 decibels. That's equal to a military jet aircraft taking off. "The noise was definitely a factor," says Moon, who was inducted into the Pro Football Hall of Fame in 2006. "Coming down the tunnel is always something I'll remember. The players fed on the noise. There was a lot of chanting, a lot of barking. It can be very intimidating."
AWESTRUCK IS HOW I felt the first time I visited the stadium as a youngster. Like so many other UW fans before me, I was forever changed by my earliest Husky Stadium memories. It was 1992 and I'd sold enough candy bars in my youth football league to win a tour of the stadium and sideline passes to a Huskies practice. As my dad and I excitedly emerged from the tunnel, I pointed to Coach James perched high above the practice field in his tower.
To stand on the field that day was magical. I knew right then that I wanted to attend the UW, and when the time came to apply for colleges I mailed just one application—to the UW. More than 20 years have passed since that tour and my connection to the University has never been stronger. Husky Stadium will always be special to me, and I felt the same sense of awe and wonder walking into the renovated stadium this summer as I did when I first set eyes upon it as an 11-year-old.
Whether by boat or by bus or the good fortune to win a youth football league fundraiser, UW fans arrive at Husky Stadium from all walks of life. Outside the stadium, we are parents, business leaders, Little League coaches and neighbors. But inside, we are all Huskies. "It's a point of pride for so many people," says Lambright, whose career has come full circle since his first Husky game 57 years ago. He is currently working for Turner Construction and has spent hours inside the renovated Husky Stadium giving tours. "This place is such a big part of who I am. I have been so blessed."
This fall, we will fall in love with Husky Stadium all over again. Enjoy it, Dawg fans.
—Derek Belt, '04, '11, is a regular contributor to Columns.
The Price to Play
The UW was able to take advantage of unprecedented low market prices for materials and construction for the stadium renovation.
In 2012, the UW was one of just 23 university athletic programs that generated enough money to cover its own expenses. In 2011-2012, the UW athletic department generated $82.6 million in revenue.
The Husky football and men's basketball teams generate enough revenue to fund the UW's 17 other sports. That revenue–plus gifts to the athletic department raised through the Tyee Club–funds an experience for 650 student-athletes.
No public money from the state of Washington or the UW was used.
The Department of Intercollegiate Athletics will use 30-year bonds to fund the project.
$200 million will be generated through new annual revenues associated with the stadium including: naming rights, increased season ticket and Tyee revenue, and premium seating opportunities.
The Athletic Department has already raised $52 million in philanthropic gifts.
New Book Highlights Husky History
The long, glorious tradition of Husky football is the subject of the newest book from Tom Porter, '59, Go Huskies!: Celebrating the Washington Football Tradition.
Featuring forwards from legendary coach Don James, current coach Steve Sarkisian and longtime play-by-play announcer Bob Rondeau, Go Huskies is a comprehensive look at the storied UW football program. No other book has compiled this complete collection of information on Husky football in one place. It also has an appendix that explores the economics of football, a subject many people are not familiar with.
The book is available at University Book Store, Amazon, Barnes and Noble and other booksellers. Meet Porter when he speaks at the University Book Store's U-District location on Sept. 27.
One of the Kindest Gestures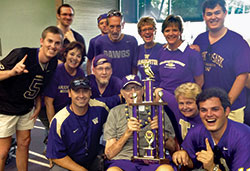 My husband and I graduated from the UW in the 1970s and my father, Charles O. Below, in 1953. All of us have been Tyee members for more than 20 years. My dad is now in hospice with stage four head and neck cancer. Before his 85th birthday on June 22, our youngest of three sons thought we might ask Coach Sark to visit him. After contacting several people, I heard from Jared Blank, head of football operations, who asked if we could get my dad to the stadium on his birthday. We dressed in our Husky gear and surprised him by taking him to the Husky football facilities. Jared gave us a tour and went so far as to ask my dad to present the trophy to the winning team playing at a football camp. My father presented the trophy, delivered a speech and all of the young men shook his hand. My dad and all four of his children, with spouses, and most of his grandchildren met Coach Sark and defensive coordinator Justin Wilcox. It was one of the kindest gestures I have ever witnessed. The University went to great effort to make my father's final birthday a memorable one. The kindness shown by the staff was nearly indescribable.
—KIM BELOW JACKSON, '79, AND GEORGE JACKSON, '77