After 15 years, a late UW grad is honored publicly for her work with the CIA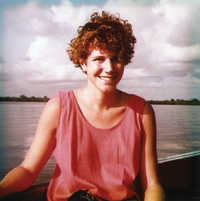 Courtesy Corinne Collie
When my sister Leslianne Shedd, '90, was killed in the 1996 crash of a hijacked Ethiopian Airlines plane, my family not only went into mourning. We also continued to keep a secret: Leslianne didn't work for the U.S. State Department, as she told everyone. She worked for the CIA, fighting terrorism in Africa.
When Lesli (right) was killed, there was a private memorial ceremony at CIA headquarters at Langley. Then in May of the following year, she was given an anonymous star on the CIA Wall of Honor.
The CIA told us that at some point, we would be able to talk about her. This past May, the CIA revealed Lesli's name as well as the names of 14 others who are memorialized on the CIA's Wall of Honor.
For the agency and the families, this memorial is a constant reminder of those who made the ultimate sacrifice for their country and of the risks inherent in the intelligence profession.
We have always been so proud of her and the work she did. It is good to fully acknowledge how brave and amazing Lesli really was.
When Leslianne died, we created a memorial scholarship at the UW in order to give other students a chance to have a little adventure in the pursuit of their dreams.
Lesli would have been impressed to see what the Shedd scholars have achieved. Through them, her spirit of adventure lives on.
Corinne Collie has a B.A. in international studies from the Jackson School. Her brother, Darin A. Shedd, has a B.A. in society & justice. The Leslianne Shedd Internship Fund is for students majoring in international studies or public health; just after her death, Lesli had been accepted into the UW's physician assistant program because she wanted to further her education in order to make a difference by providing health care in Africa.