Charting a Sustainable Future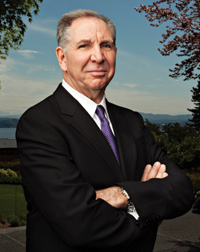 MY FIRST YEAR AT the University of Washington afforded me countless opportunities to feel proud, challenged, humbled, and excited to be leading this incredible institution. In some cases, particularly when considering the extraordinary reach and impact of the University, what I felt could be described as nothing less than awe.
I had one of those awe-inspiring moments last June during the commencement ceremony for our Seattle graduates. To help make CenturyLink Field feel more like home, we adapted a cherished Seattle Seahawk tradition. In place of the 12th man flag raised before every Seahawk home game to recognize the loyal (and loud) fans who give their team a decided lift, our two Rhodes Scholars from the class of 2012, Cameron Turtle and Byron Gray, hoisted the University's own standard, a gold "W" on a field of purple. Seeing our W flag flying high above the stadium sent shivers of pride down my spine and inspired me to muse about what a vitally important 12th man the University of Washington is for our state. For 150 years, the University has provided an unequivocal boost to all of Washington's citizens through our teaching, research, and service programs.
Now, three months later, Cameron and Byron are embarking on their studies at Oxford, their fellow graduates following their own unique paths. On our three campuses, final touches are being put on preparations to welcome an array of new faces, along with plenty of familiar ones, as we all experience the rush of excitement that comes with the start of a new school year.
This year at the UW, we have even more reason than usual to feel optimistic. We appear to have reached a transition point from which our community can put behind us the herculean effort that was required to make it through the "Great Recession" and its immediate aftermath. It is now time to turn our attention and energy to the future.
At this critical juncture, it's more important than ever that we focus on our core mission as a premier public research university and what it takes to achieve it. Charged with educating and serving Washington's citizens, the University has achieved tremendous success. The key to this success is relatively straightforward: our people. The University has one of the most outstanding faculties in the world, as evidenced by our prominence in international rankings of world universities and, perhaps even more impressively, by our extraordinary standing of the past 38 years as America's top public university in competing for federal research funding. The leading-edge research environment forged by our faculty has made a difference in lives around the world and especially on our campuses where it shapes the learning experience of our students.
Our people are, without question, the University's most precious resource. They drive our sense of discovery and change the world every day. They have made the University what it is today and are the foundation of every success we will achieve in the future. Therefore, it's essential that we take care of them. This requires retaining and attracting world-class talent while ensuring fair compensation and providing a supportive environment.
With a slowly recovering economy, the Legislature seems prepared to stop the slide in state support for higher education and to support greater operational flexibility. Yet none of our state funding that was lost during the past two biennial budgets—more than half of what we received in 2008—has been restored. The double-digit tuition increases of the past four years mitigated the situation in the short term, but such measures simply are not sustainable. We certainly are doing our part to reduce the cost of the world-class education our faculty offers, while also doing much to develop and enhance alternative forms of revenue. But we must all work together toward additional solutions. With our many partners, we can chart a viable path to a sustainable future for public higher education in our state.
We are fully committed to this work and ensuring the University continues to be our state's most valuable 12th man for generations to come. We invite our alumni and friends to join us in this incredibly important endeavor.


Michael K. Young, President