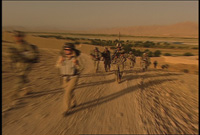 Courtesy Alex Quade
As a UW undergraduate earning degrees in communication, speech and political science, Alex Quade, '92, knew that she wanted to be a combat reporter just like legends Ernie Pyle and Edward R. Murrow.
She has succeeded in a big way. For the past 15 years, Quade has served viewers as a fearless, ethical television war reporter and documentary filmmaker covering U.S. conflicts all over the globe.
A freelance "one-man-band" who has worked for CNN and Fox News Channel, Quade embeds with elite U.S. Special Operations Forces. She has covered military and secret actions in some of the world's most dangerous places. "It's a responsibility I take seriously: to get viewers to care; so service, sacrifice and history are not forgotten, so Americans don't 'tune out,' literally," Quade says.
Her work has enthralled more than just her viewers. The Congressional Medal of Honor Society presented her with the Tex McCrary Award for Excellence in Journalism for her unbiased coverage of the U.S. military. She serves on the board of Military Reporters & Editors, an association of journalists who cover national security and veteran's issues. And she received the American Legion Fourth Estate Award this past summer.
But she received one of the most prestigious awards in her field this past May when the Radio Television Digital News Association honored her with an Edward R. Murrow Award for writing her latest documentary film, Horse Soldiers of 9/11, which premiered at the GI Film Festival in May. It's about U.S. commandos who secretly waged war on horseback against the Taliban and Al Qaeda in Afghanistan after 9/11.
"Sharing the stories of those quiet professionals is my small way of serving," Quade says. "No, I did not drink the Kool-Aid; and no, I'm not a cheerleader for Special Operations. I just try to do what journalists are supposed to do, which I learned in Communications-101 at UW: I tell 'their' stories, not 'me' stories."
Julie Garner is a Columns staff writer