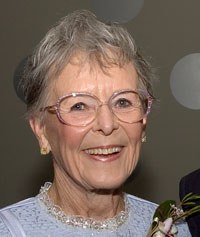 Courtesy of School of Nursing
Jean Ash Reid, '47, who served on the UW School of Nursing Advisory Board and was an extraordinary supporter of the school, died May 12. She was 86.
Reid and her late husband, Bob, '48, donated $5 million in 1999 to endow scholarships for both undergraduate and graduate student nurses. They also endowed the School of Nursing Deanship with a gift of $3.5 million in 2006.
Bob Reid died in 2011. Both he and Jean experienced hospitalizations in their lives and came to strongly value the nursing profession because of its mission of caring. Nancy Woods, former dean of the School of Nursing, says that Jean saw nursing education as an important solution to the problems facing health care in Washington state.
The Reids, who were also longtime Tyee members and lifetime members of the UW Alumni Association, were honored with the School of Nursing's Outstanding Volunteer Award in 2006 and the Peter Dyer Heart of Nursing Award in 2011.—Julie Garner