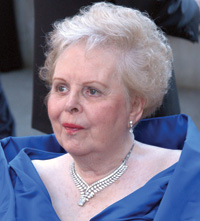 Courtesy Rozaril Lynch
Marion McCaw Garrison, '39, who died June 25 at the age of 95, had an amazing mix of personal qualities and interests. As a young woman, she showed her talent for numbers and business acumen, excelled in mathematics and became one of the first female accounting graduates at the UW.
She was also known for being one of the UW's generous supporters, as well as a booster of the arts in Seattle. Marion Oliver McCaw Hall—the region's premier performance hall and home of the Seattle Opera—is named in her honor.
She started out early on her path to success, buying 40 acres of stump land near Olympia at the age of 22 and developing it into a subdivision.
In 1942, she married John McCaw and put her skills to work for the family business that included radio and television stations as well as real estate. The McCaws had four sons—Bruce, '67; Craig; John Jr., '74; and Keith. After her husband died in 1969, she continued her involvement in the family wireless communications business.—Julie Garner