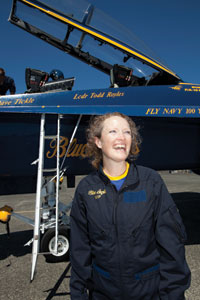 Photo by Ron Wurzer
UW Aerospace Engineering Alumna Heidi Lyman, '84, '92, enjoyed the ride of her life aboard a U.S. Navy Blue Angels F/A-18 Hornet during Seafair week. She now knows the surreal feeling of pulling 7.4 g's, and describes the ride as thrilling beyond measure.
Lyman is a former Boeing aerospace engineer who now teaches mathematics and engineering at South Seattle Community College. Lyman says that back when she was a student studying aeronautic and astronomic engineering at the UW, she was absolutely obsessed with flying. Though she became an expert in aviation theory, she never expected the thrill of enjoying the real-world experience.
"I wear glasses and so I thought flying in something like a Hornet would be out of the question for me," Lyman said. "I accepted the fact that would be something I would never experience."
That all changed this past August, when the United States Navy Blue Angels honored Lyman as a Key Influencer, and took her on an hour-long ride aboard Blue Angels F/A-18 Hornet #7.
Her journey to becoming a Key Influencer began more than a year ago when she was nominated for the honor by a Navy recruiter. Lyman was then asked to write an application letter to be read by the Blue Angels pilots themselves. They chose her letter based on her enthusiasm and willingness to use the experience as a teaching tool in the classroom.
"I explained how I love to use real-world examples when I am teaching," Lyman said. "I knew having such an amazing firsthand experience would be something I could use for years to come."
Flying at such speed and with such force is taxing on the human body, and so Lyman was also required to pass physical endurance tests. These included swimming a 100 yards without stopping, and running two miles in under 20 minutes.
And so on a clear, picture-perfect August morning, Lyman arrived at Boeing field admittedly more than a little nervous. It is one thing to teach the effects of velocity and acceleration on the body, and quite another to feel their effects at 17,000 feet.
She wore a mathematically themed t-shirt in honor of her students and red, white and blue socks. The Blue Angels provided her with a blue flight suit (navy blue of course). On her wrist she proudly wore a handmade bracelet.
"I realized I needed something representing my Husky pride, and so I found some purple and gold yarn," she said.
After returning from her hour-long flight over the Puget Sound area, Lyman says the experience was indescribable. When asked what it felt like to pull 7gs she laughed and said, "It was actually 7.4gs—can't forget the .4—and it feels like I just spent three hours at the gym. It was incredible. I am so grateful to have had this experience."