Alums turn used coffee grounds into clothing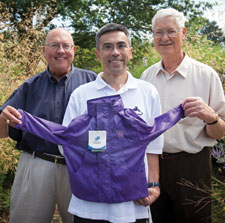 People love their coffee. Now, thanks to a group of local businessmen and entrepreneurs, folks can wear their java.
Tom Symons, '53, John Davenport, '66, and Stan Tsang, '80 are partners in Our Glõbo: Live Wisely, a Seattle-based company that creates shirts made from used coffee grounds and backpack-style jackets (right) from cutting-edge recyclable poly materials.
Tsang believes there needs to be a big change in the way business is done nowadays—less focus on gross profits and more attention paid to fundamental values in sustainability, environmental stewardship and fairness.
"Our hope is to instill in children an appreciation for stewardship within our ecosystem today," Tsang says, "and therefore, hope for tomorrow."
To find out more, visit ourglobo.com.