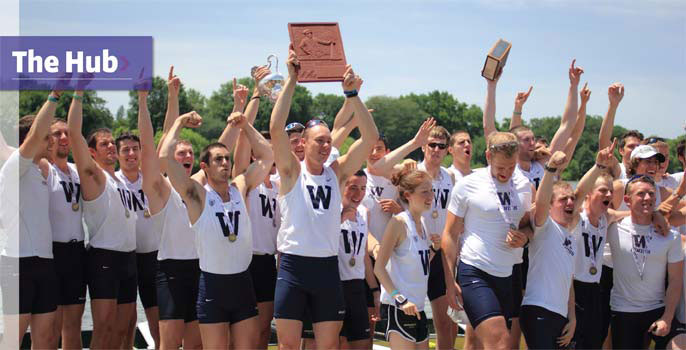 Once again, the UW men's crew has resumed its rightful place atop the rowing world.
A decade ago, Sept. 11 changed our lives forever. But Sept. 12 turned out to be even more devastating to the UW family. Read more.

A total of $3.7 million from state funding and an anonymous gift have been received to support the building of the Intellectual House at UW. Read more.

Last year, the UW School of Pharmacy began providing pharmacy services at University House Wallingford, a residential retirement community. Read more.

To commemorate the UW's 150 years of discovery and inquiry, the 2011-12 Common Book is The Meaning of It All: Thoughts of a Citizen-Scientist by Richard Feynman. Read more.

Washington Commons, a gathering space for UW alumni and the University community, opens Sept. 9 in the new UWAA offices adjacent to the UW Tower. Read more.

Four alumni who helped launch space shuttle program. Read more.

Alums turn used coffee grounds into clothing. Read more.

UW Aerospace Engineering Alumna Heidi Lyman, '84, '92, enjoyed the ride of her life aboard a U.S. Navy Blue Angels F/A-18 Hornet. Read more.