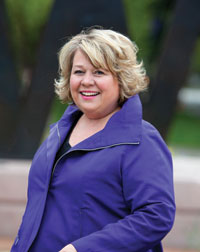 Photo by LaVie Photography
Yes, I was destined to be a Husky. Four generations of family have attended the University of Washington and we may own more purple & gold than the University Bookstore. Before I was born, Dad built our home near campus, so I could walk there when the time came for me to go!
Growing up, it was 'the way we lived' to spend fun-filled Saturdays at Husky football games, braving the traditional Homecoming parade or to take nature walks through the beautiful Arboretum and to enjoy the arts and culture at the Henry Art Gallery and Burke Museum.
This year, it's even more exciting for me to be on campus as the UW celebrates its 150th anniversary and the new Washington Commons opens its doors to all. Celebration is an integral part of our UWAA mission: we reach out, connect and celebrate alumni and friends to build lifelong relationships and to support the University's mission.
In 1861, the UW began with 30 students and now there are more than 300,000 living alumni, with 50,000 UWAA members! The UWAA was founded in 1889, the same year that Washington became a state, and has grown into one of the nation's largest and strongest alumni organizations. For 122 years, we have led the way, involving graduates and the greater community in the everyday life of the UW. Today, the increased activism of our alumni has never been more vital and important to the well being of our great state.
To honor our University's 150th birthday, I encourage you to come back 'home'—whether that means cheering for Husky sports teams, running in the Dawg Dash, attending a drama production, or any of our 100-plus events. 
Get onboard with UW Impact, our legislative advocacy group. We invite you, our alumni, to make the UW a larger part of your life again, to enjoy its myriad offerings and opportunities—to become its best ambassador!
Here's what you can do: Attend lectures and events. Visit the libraries. Invite your friends, neighbors and colleagues. Travel the world on fabulous alumni trips. Become an UWAA member (you can add your spouse for $10 more or upgrade to a lifetime membership). And remember — you don't have to be a UW grad to join. Make a gift to your college, group or scholarship fund. Celebrate being a Husky every day.
The UWAA leads the cheers for the UW's 150th celebration! Please join us. It's a great time to be a UW Husky.

Susan Wilson Williams, '73
UWAA President, 2011-12