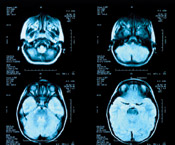 Photo by Joe Angeles
Here's an item that won't surprise parents: it takes a 1-ton apparatus to figure out what's going on in a young child's mind.
That device is the new magnetoencephalography (MEG) machine at the UW's Institute for Learning & Brain Sciences (I-LABS). Unveiled in May, the MEG is the world's first brain-imaging machine specifically designed to work with infants and young children.
The MEG machine detects minute variations in magnetic fields as brain cells fire, producing a precise map of how babies' brains function—information that will help researchers understand how and when learning happens.
Andrew Meltzoff, I-LABS co-director and Job and Gertrud Tamaki Endowed Chair in Psychology, and I-LABS co-director Patricia Kuhl, who holds the Bezos Family Foundation Endowed Chair in Early Childhood Learning, worked with the machine's manufacturer to design innovations that enable the machine to track brain activity as babies reach, wiggle and squirm.
The MEG is the centerpiece of the Developing Minds Project, which aims to discover how young children learn, and to develop strategies to promote learning that could be used by day cares, preschools and parents. That project is supported in part by a $5 million grant, including a $3 million matching challenge, from the Bezos Family Foundation.
—Sarah DeWeerdt