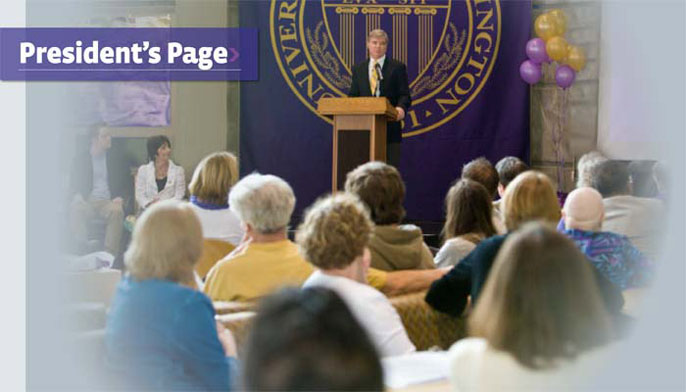 Photo by Andy Nystrom
Farewell Message
As my tenure at the University of Washington draws to a close this month, it's only natural to reflect on my time as president, as well as on what the future may hold for our alma mater. I'm very proud of the things that have been accomplished at our University over the past six years. These accomplishments are much larger than any one person. They are, in fact, the result of the combined commitment and efforts of many people working together.
I was extremely honored to be the UW's leader as our community came together to launch the Husky Promise, which guarantees access to a world-class education to thousands of low-income students from across our state. Likewise, the great success of Campaign UW: Creating Futures in raising more than $2.6 billion was a tremendous vote of confidence in our University. I'm proud of the widespread collaboration and dedication that went into improving the undergraduate student experience, including expanding opportunities for research and for study abroad in places such as our new center in León, Spain. And the work done to create the College of the Environment and the Department of Global Health was nothing short of spectacular.
Yet as I think about these and other amazing things that have been achieved at the UW over the past six years, I'm also very much aware of the things left undone and the challenges and opportunities that still lie ahead.
Going forward, there is plenty of work to be done. Most of this work focuses on creating a sustainable financial model for our University. Last year, for the first time, student tuition dollars exceeded taxpayer support for the UW, fundamentally changing our relationship with the state. At the same time, the University lost one-third of its state funding. This shift has made it critical to develop a new funding and operating model to allow the wonderful work being done at the UW to continue for years to come.
Yet we haven't been able to persuade enough elected officials and opinion leaders in the state to recognize the importance of acting now. The recent economic impact study done by nationally recognized independent consulting firm Tripp Umbach demonstrates the critical role the UW plays in our state's economy. For example, the UW is responsible for producing 70,000 direct and indirect jobs in the economy and in the last decade alone has created 7,600 new jobs, primarily from research grants funded by tax dollars brought in from outside the region. Our state can't afford to lose this vital economic engine. Moreover, Washington's sons and daughters can't afford to lose the educational benefits of having a world-class university in their own backyard. The consequences of failing to step up to this challenge are likely to have an effect not only on future Washington residents who want to attend the UW, but also on the local and state economy.
It's also important to continue building on the UW's established strengths and focusing on those areas where we can have the biggest impact. With the wealth of talent and expertise already assembled in it, the College of the Environment is well positioned to become the finest school of its kind in the nation. But to reach its potential, it must be nurtured and grown. Similarly, UW efforts in global health, health sciences generally, information technology, computer science and engineering and other key fields have already established themselves as national leaders. Supporting their further growth will ensure they continue to have an impact for future generations.
The UW has a long, rich tradition of collaboration, innovation and excellence. The key to this tradition is our people. They are the reason our alma mater has risen to become one of the best research universities in the world, and they will be the reason our university continues to thrive and to serve citizens of Washington in an exemplary manner for many more decades.
It's extremely hard to leave the people who make our alma mater such a remarkable institution. Indeed, there's never a good time to leave a great job. I have loved my time at the UW and have no intention of staying away. DeLaine and I will be in Washington as much as possible. It will always be our home, and we will always be Huskies. And we look forward to watching our university continue to grow and deepen its impact on our state and our world.

Mark A. Emmert, '75, President
UW Searches for Next Leader
The hunt for a new UW president has begun. In May, the Board of Regents appointed a 17-person search committee, chaired by Kellye Testy, dean of the UW School of Law. The committee will submit three to five candidate recommendations to the Board of Regents on Jan. 31, 2011. In August, R. William Funk and associates was retained to help with the search.
As part of the process, the committee will host stakeholder forums in Bellevue, Seattle, Spokane and Tacoma this fall to gather input on the qualities and skills alumni and friends believe are critical in the next president. The Regents' charge to the search committee and criteria for choosing a president, as well as the committee's announcements, updates and contact info for submissions, can be found at washington.edu/regents/search.
Interim President and Provost Named
In July, the Board of Regents named UW Provost Phyllis Wise as interim president. As provost, Wise is the University's chief academic and chief budget officer, and the second-highest university administrator. She will be the first woman and the first Asian-American to serve as UW president. In turn, Wise named Mary Lidstrom, vice provost for research, a professor of microbiology and chemical engineering and the Frank Jungers Chair of Engineering, as interim provost. Both will assume their duties upon President Emmert's departure this fall.