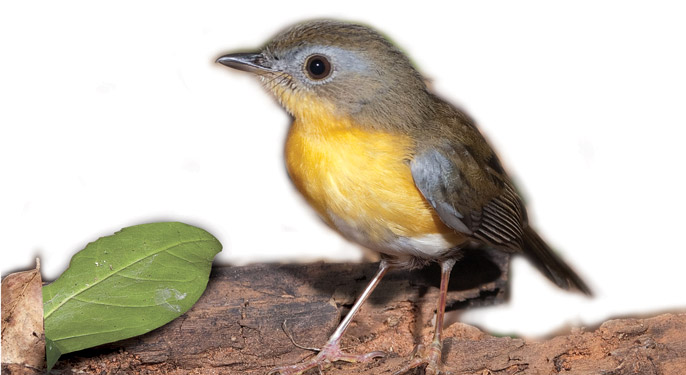 Photo by Hugh Chittenden
The biggest factor in the impending disappearance of a tiny bird
Any way you look at it, pitting an African bush elephant, the largest land animal on Earth, against an East Coast akalat, a tiny bird about 4.5 inches from beak to tail feathers—the elephant wins.
A male elephant stands 11.5 feet at the shoulder and weighs 20,000 pounds. The akalat, approximately 3 inches to the top of its head, weighs a few ounces.
Big and small, bird and pachyderm, each has its place on the International Union for Conservation of Nature's Red List of Threatened Species, and both compete for resources in one small national conservation park in Kenya.
That place is the 420-square-mile Arabuko-Sokoke Forest (ASF), the largest remaining bit of coastal forest in Africa. Besides about 150 elephants and 7,500 mating pairs of akalats—the largest remaining population anywhere—the ASF is home to many endemic plant and animal species in decline. About 104,000 people live in 50 villages outside the ASF; within the forest, wildlife is protected in a small nature reserve. An electric fence divides the reserve to keep elephants away from the villages.
In this small enclave of nature, John "Buck" Banks, an entomologist and professor of environmental science at UW Tacoma, is looking into whether elephants might be contributing to the akalat's downfall. He joined forces with ornithologist Colin Jackson, director of the Mwamba Field Study Centre and Bird Observatory in Watamu.
"No one was looking at what the birds ate," said Banks. Studying the insects that make up a majority of the birds' diet would help determine whether their food source was being disturbed. The reserve provides a perfect place to study the situation.
"There's no other place where akalats are found in a forest with elephants in one area and not in another," he explained.
With a UW Royalty Research grant, Banks conducted a three-week trip to the Arabuko-Sokoke reserve in April 2009. Two UW Tacoma undergrad students, Lisa Hannon, '09, and Christopher Thomas, '10, went along as research assistants.
All did not go perfectly for the UW Tacoma group. They spent several frustrating days driving back and forth between bureaucrats in Kenya trying to obtain permits. They encountered unexpected expenses, an overheated rented car with a busted tire and an unscrupulous owner, a breakfast-stealing Sykes monkey and a legion of safari ants marching through their kitchen.
In the end, though, science prevailed and every day before dawn, Banks and the students staked out hiding spots about 200 meters apart. They played recordings of akalat song and counted how many birds came by to check it out.
Near each spot, the researchers laid two kinds of insect traps: A "malaise" trap—a kind of upside-down funnel made of netting that captures flying insects—and a "pitfall" trap, a container in the ground filled with soapy water to catch crawling insects. The insects were identified and classified according to type (fly, beetle, wasp or bee, for example) and then sent to a colleague at the National Museums of Kenya for further classification of genus and species, where possible.
Akalats live close to the ground and make their nests in leaf litter on the forest floor, so they depend on lush cover to screen them from predators. The team measured the density of the underbrush and also noted places where elephants had trampled the undergrowth. All this evidence was collected on both sides of the fence so the team could compare the data with and without elephants.
"Our results were exciting and promising," Banks said. "The elephant-roaming area features much less ground cover and far fewer beetles than the area outside the fence that is undisturbed by elephants."
The findings, which suggest that elephants do play a large, albeit indirect, role in the maintenance of the endangered birds, will be reported in an upcoming issue of the African Journal of Ecology. The two students are credited as co-authors.
Last February, Bucks and another group of faculty and students on a study abroad trip briefly revisited the reserve and this time were able to get some akalat bird droppings, which were added to the growing set of information collected by researchers.
In September Banks and some other students will return to the ASF for several weeks. They plan to repeat the previous research in different parts of the reserve and collect more akalat droppings to be DNA-analyzed, which will tell them more about the birds' diet. They will also help conduct a census to determine how many pachyderms live in the reserve. Banks hopes they can collect enough data to make recommendations that could be used at the ASF and other reserves to help manage diverse species.
In the end, with help from this research, maybe elephants and akalats can just get along.
—Beth Luce manages PR and marketing at UW Tacoma, though she wishes she was a forensic anthropologist.