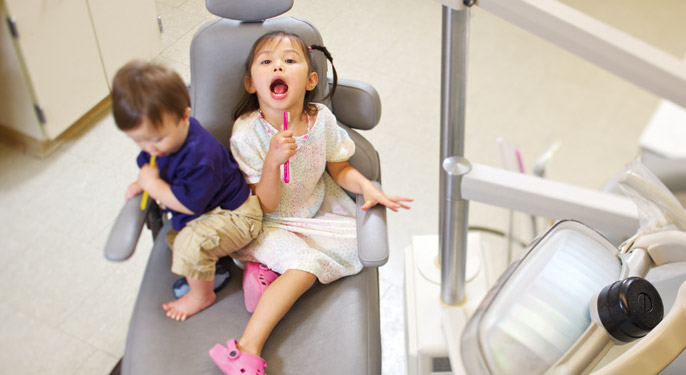 Photo by Matt Hagen
Big Steps for Baby's Teeth
It was after midnight when they brought Bobby* into Seattle Children's Hospital's emergency room. The 4-year-old was wailing, his parents confused as to what was causing their child so much pain. After an exam and some X-rays, doctors hurried Bobby to the pediatric oral-surgery area, where he was given a local anesthetic, and the culprit—an infected baby tooth—was quickly extracted. Hours later, Bobby was sent home with oral antibiotics.
But two days later, he was back. This time, the right side of his face was so swollen that his eye was nearly shut. The tooth was gone, but the aggressive infection it spawned had continued to spread and now was threatening to invade Bobby's brain. The preschooler was immediately rushed into surgery, where a pediatric oral surgeon opened the unconscious child's mouth and made an incision to allow the infection to drain.
Bobby was hospitalized for days, hooked up to IV antibiotics, his parents huddled at his bedside, agonizing over their son's health and the mounting cost of his care.
While this situation is particularly unusual, it's a parent's nightmare and an oral health-care provider's worst-case scenario. And according to Joel Berg, chair of the UW Department of Pediatric Dentistry and director of dentistry at Seattle Children's Hospital, similar crises occur "pretty much weekly, if not daily."
Even more shocking? It's all completely preventable.
"It seems crazy to me that in 2010, a cavity in a tooth can get so bad and be so neglected, but we get many cases like this," Berg says. "Kids get infections and end up in the hospital; a boy in Maryland died because he developed a brain abscess. There's a growing cavity crisis in preschool. It causes terrible suffering and the cost is incredible."
Waging War on Dental Disease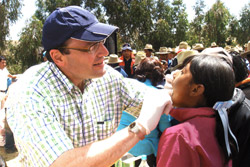 Dr. Joel Berg provides an impromptu dental exam for a young girl in Peru.
If it sounds like there's a war going on, it's because there is, with UW pediatric dentists on one side and childhood tooth decay and its related troubles—such as pain, speech and learning problems, and nutritional issues—on the other. Amazingly, 60 percent of Washington's elementary-age kids suffer from preventable dental decay, and more than one in five are saddled with rampant decay—i.e., having cavities in seven or more teeth, each one a ticking time bomb waiting to claim another casualty like 4-year-old Bobby.
But this September, Berg and his colleagues will have a new weapon against the growing crisis of childhood dental disease, the single most common chronic disease among U.S. children: a state-of-the-art, multidisciplined facility made possible by a lead gift of $5 million from Washington Dental Service and the Washington Dental Service Foundation.
Boasting 29 patient chairs, three operating rooms and a staff of pediatric dentists, pediatric oral surgeons, cranial facial orthodontists, pediatric dental residents and many others, the Center for Pediatric Dentistry—jointly operated by the University of Washington and Seattle Children's Hospital—is designed to accommodate an anticipated 30,000 to 40,000 dental visits per year.
It will also house personnel and facilities for research, education, health services and public policy, making it the first facility of its kind in the world.
"It'll be a major improvement for us," says Berg, who will act as director of the new center. "Right now, we have a backlog at both the UW and Seattle Children's [pediatric dental clinics]. The new facility will fix that."
But the new facility isn't just for children with complex or life-threatening dental conditions. It is for all families who want to ensure that their children are getting the best routine dental care that is available anywhere.
In addition to serving infants, toddlers, "tweens," teens and children with special needs, the 28,000-square-foot facility will be a think tank where pediatric dentists, pediatricians, psychologists, social workers and others will work to wipe out childhood dental decay, not just in Washington state but nationally and even globally.
"We view our facility as a laboratory to develop processes, logistical systems and policies to provide oral care beyond our country and state—nationally and internationally," Berg says. "We want to improve the health of children everywhere."
In addition to studying behavioral intervention, the Center will work with Dr. Eric Seibel of UW Engineering, recent recipient of a $150,000 Life Science Discovery Fund award, to study the effectiveness of new laser-scanning technology designed to detect cavities at their earliest phase. Berg also anticipates the Center will be teaming with UW dental professor Dr. Peter Milgrom following his groundbreaking research on the dental bacteria–fighting sugar substitute Xylitol.
Overcoming Stumbling Blocks
Located at Magnuson Park, within the old traffic-control tower at the former Sand Point Naval Air station, the completely renovated building (officially known as the Washington Dental Service Building for Early Childhood Oral Health) will merge the services and staff of the current UW Pediatric Dentistry Clinic and the Seattle Children's Dental Clinic.
But educating people about the importance of early dental checkups (the center recommends a child's first dental visit by age 1) is no easy task, despite the fact dental decay causes pain and infection, affects a child's ability to speak and/or chew properly, and can severely undercut a child's performance in school.
"I'll have families bring a child in and there will be visible cavities on their front teeth, but when I ask them what questions they have, they'll say, 'None,'" says Dr. Asia Dela Cruz, '00, '06, who recently opened a pediatric dentistry clinic in Wenatchee with her husband, Dr. Geoffrey Ping. "Some people don't realize what cavities look like, or they don't realize they're not normal. They think as long as it's not causing pain, it's not something that needs attention."
Dental anxiety can also keep families from getting their kids the care they need.
"There's a kind of vicious cycle of fear and avoidance," says Dr. Pete Domoto, former chairman of pediatric dentistry at the UW. "Many of the parents of children wait until there's some emergency—a broken tooth or a swollen jaw—because back when they were young, their parents waited. And that's the worst time to get dental care. It's almost predictable that the child is going to have pain."
The Center will utilize a variety of fear-fighting mechanisms at every station, from videos of cartoon animals undergoing dental procedures to monitors projecting Disney movies to stuffed animals and nitrous oxide.
But Berg says educating parents about proper oral health—and getting kids in the door before cavities or dental emergencies arise—is the main way to combat dental fear.
"The real need is to educate parents when the child is 1, not 8," Berg says. "To talk to them about diet and hygiene and fluoride and brushing and communicate the importance of all of it. We see the devastation that can occur, and it's painful and difficult for families when it happens. But it's all preventable with early intervention and proper checkups."
Staying ahead of fast-moving dental decay is not easy, though.
"I took my daughter in at age 1 and she was fine," says Amy Owens, who works the registration desk at the UW School of Dentistry. "But over four months, she developed a huge cavity. One of my cousins is a dental assistant and she noticed it and said, 'You need to get it checked.'"
Owens brought her daughter to the UW Pediatric Dentistry Clinic and discovered her daughter needed to have a root canal and two crowns, procedures that required sedation. She also realized she needed to be more diligent with the toddler's oral-health habits.
"My daughter is very stubborn and strong-willed, and it was not easy to brush her teeth," she says. "She would cry, so I would shy away from it. But seeing her in surgery—seeing her with tape on her eyes under anesthesia—was scary. I did not like that at all. Now if she cries when I brush her teeth, it's too bad. I know I'm not hurting her. I see people who come in [to the UW School of Dentistry] and they're very sick because their teeth are so bad. Their face is swollen or their teeth are all rotted out. They're suffering. And all that starts as a child. You have to learn your habits now."
Improving Access
There are other roadblocks to dental care, though, Dela Cruz says.
"Financial burden can be something that gets in the way of a child getting care early," she says. "If the family is paying out of pocket, it may be too expensive. Or the family may not be able to find a dentist who will accept Medicaid insurance. That's a huge problem."
The new center will not only actively encourage and welcome Medicaid patients (King County alone has more than 36,000 Medicaid-eligible children younger than 6 who haven't seen a dentist), it will employ a social worker to help shepherd low-income families through the many barriers that can prevent regular visits.
"We're trying to make sure we get the kids in," says Heather Marks, '07, one of only a few pediatric dentistry social workers in the country. "When we have no-shows, it's not that the parents don't want to come, it's that there's a language barrier or they don't have a car or gas money or if they take time off from work to bring their child in that means their income is cut."
The clinic will serve all children, though, Berg is quick to add.
"Because we have pediatric dental-care specialists in a variety of disciplines, our doctors can care for the multitude of needs of all children," he says.
The new location boasts 1,200 free parking spaces and a setting that exudes peacefulness—major perks for dental patients big and small.
"This facility is on a beautiful piece of property right on Lake Washington," Berg says. "You can see the Cascade Mountains; there's a dog park nearby. It's not like you're driving into some big office building that looks potentially scary. It has a more friendly face to it."
A friendly face that's hoping to keep kids smiling—and safe from the ravages of decay—for decades to come.
—Seattle writer Diane Mapes is a frequent contributor to Columns.