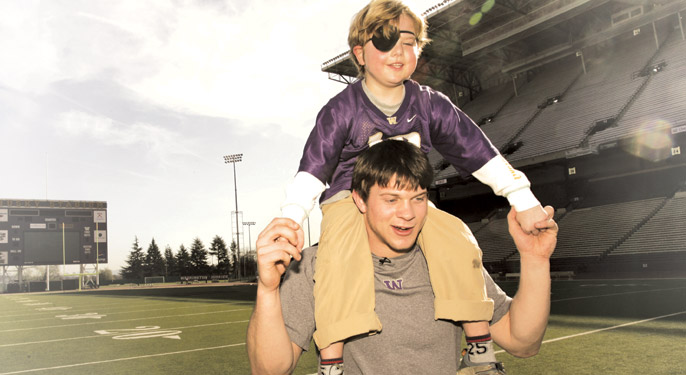 Photo by Grant M. Haller/Seattle P-I
First and 10
A glimpse into what else matters most to the Huskies' home-field hero
When Jake Locker announced his decision to play quarterback for the University of Washington in 2005, Husky fans and Seattle sportswriters christened him the "savior" of UW football. He was the "Great Purple Hope," a local hero out of Ferndale High School near Bellingham whose talent and intangibles would right the wrongs of a struggling program.
Over the past four seasons, Locker has blossomed into a fearless leader and one of the highest-rated college football players in the country, though his legacy at the UW is incomplete. The Huskies are 8-20 in games Locker has started and haven't made a postseason appearance since 2002. Still, Washington is a trendy pick to finish in the top half of the Pac-10 this fall. And Locker made headlines in December by passing on professional football and surefire millions to return to the UW for his senior year. In doing so, many, including ESPN NFL draft expert Mel Kiper Jr., are certain Locker will be the No. 1 pick in the 2011 NFL draft.
There is more to Locker than just football, though. As he enters his final year at the UW and readies for a potentially lucrative career in the NFL, he remains a college student at heart. He enjoys the campus life and is fascinated by his American military and history classes. Off campus, he can be found playing golf, boating on Lake Sammamish or hiking Mount Si. And when he's not in motion, he's spending time with his family in Ferndale, his girlfriend—a former Husky softball star—or his new best friend, Ten, a chocolate lab named after the number on his football jersey.
In fact, it's off the field where Locker's star shines brightest. A history major who helped organize the Huskies' new Touchdown for Kids program, which supports travel expenses and medical bills for families of Children's Hospital patients, Locker spends much of his spare time visiting with sick children in the hospital. "I learn more from them than they learn from me," Locker says. "The way they look at it, the way they approach it, they're always so strong. It's not going to beat them, and they don't feel sorry for themselves. To me, that's amazing."
Locker has always cared for others in need—a product, he says, of his small-town upbringing in rural Ferndale—but his compassion for those battling cancer may be a bit more recent. He was deeply touched by the disease in 2007 when a longtime family friend, 15-year-old Chelsey Ebert, was diagnosed with bone cancer and died on Christmas Day less than a year later.
That same year, Locker met Kyle Roger, a 6-year-old suffering from a rare brain tumor that would ultimately claim his life. Kyle's family had asked if the boy could meet with Locker, his hometown hero whom the Rogers had followed during his days at Ferndale High. Locker did the request one better, inviting the family to Husky Stadium for a memorable afternoon. He played catch with Kyle and his older brother, Nicolas, and led them out of the tunnel hand-in-hand, barking the way UW players do before games. Kyle had undergone radiation treatment just hours earlier at UW Medical Center, but that didn't stop the trio from whooping it up like best friends who had known each other for years.
"Spending time with people and families that have had unfortunate things in their lives—be it somebody that has cancer or gets some kind of illness—I think more than anything it helps you understand what's important in life," Locker says. "They've shown me where your priorities and passions should lie."
After a playful game of tackle on the Husky Stadium turf that spring day in 2007, Kyle emerged from the pile and motioned to the stands where his family sits during games, leading Locker to promise he would point to Kyle after scoring his first touchdown at Husky Stadium. That is exactly what he did that fall, from atop the team bench, after scoring in the home opener against Boise State.
Over the years, Locker and Kyle's friendship grew stronger as the boy's condition worsened. At the end, when the sick boy could no longer talk, the two communicated using a whiteboard. When Kyle died in 2009, Locker wore a pink tie (Kyle's favorite color) and spoke at the funeral. And last season he opened one of his weekly press briefings by asking reporters to publicize a Run of Hope benefiting the Pediatric Brain Tumor Research Fund through Children's Hospital. Readers donated more than $2,000 to Kyle's team. Even today Locker remains close with the Rogers, still making time to treat Kyle's brother Nicolas to bowling or a bag of French fries.
"I think the platform that athletics has given me has opened up doors for me to be able to help people," Locker says. "I don't think that's a coincidence, either. We're put in the positions we are for a reason, and I believe I've had the opportunities that I've had and I've worked with the kids that I have because it's made me a better person and allowed me to grow as a young man. It's an experience that changed my life and I will carry with me forever."
Locker's legacy will not be defined by wins and losses alone. If he leads the UW to a bowl game in 2010 and completes the Huskies turnaround many thought he would, Locker will be remembered as one of the program's all-time greats. But his career of caring for others will leave an even deeper impression among the friends and families he touched along the way.
"Jake is such a phenomenal person outside of football," says Christin Rogers, '93, Kyle's mother. "Even if you didn't know he was a football player, you want to root for him because he's a good person and you want to see him succeed. He is a warm-hearted and caring person who just so happens to be a fantastic football player."
—Derek Belt is a regular contributor to Columns.