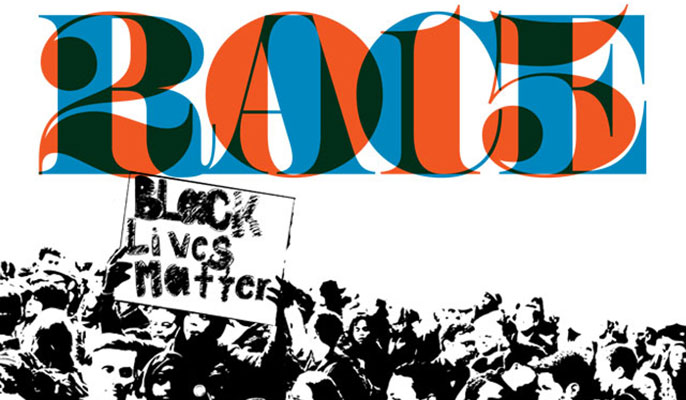 Race and Equity
It was a scene straight out of 1968.
Hundreds of UW students, staff and faculty walked out of class to protest acts of police brutality against African Americans, racism in all its forms, and inequities in the education system. But this wasn't the 60s; this was 2015—a watershed year for race in America.
In a gathering the likes of which hasn't been seen on campus in decades, hundreds swarmed in front of the HUB on a chilly February day. Undergraduates like Sarra Tekola and Kainen Bell took the megaphone to urge the throng to fight inequity and support the Black Lives Matter movement. "It's going to be hard," Bell said. "But we can't give up." Others demanded significant changes at the UW: a more diverse faculty, greater access for underrepresented minority students and mandatory racial literacy instruction for students, faculty and staff.
Nikkita Oliver, a graduate student and community activist, helped organize the walkout. "We're the people's school and we felt that meant we should be leading the charge," she explained. "If you look at the issues here in the 1960s and you look at diversity here now, things have not proportionally improved."
These students are part of a national chorus rising to voice the same complaints from coast to coast. In the past 12 months, serious allegations of racism on campuses around the country led to upheaval not seen since the anti-war protests of the 1960s and 70s. And the results have been stunning: The president of the University of Missouri resigned in the wake of student protests and a potential boycott of the football team. The dean of students at Claremont McKenna College stepped down amid student outrage after she described diverse students as not fitting "the CMC mold." Even the most prestigious of the Ivy Leagues have struggled with things like the defacement of portraits of black professors. The sad reality is that in spite of years of efforts to attract and support students from all backgrounds, academia as a whole is still beset by racial equity issues.
But the UW—among the first universities in the nation to open an office of minority affairs in 1968—used the events of 2015 to deepen conversations surrounding race, equity and social justice.
The UW has long been a national model for serving students of color and those from other underrepresented communities. In 1970, the UW hired one of the nation's first vice presidents of minority affairs—Samuel E. Kelly, '71. He created programs to recruit and retain underrepresented and underserved students, programs that are still in effect. Today, the Office of Minority Affairs & Diversity (OMA&D) college access programs serve more than 16,000 K-12 and community college students throughout the state. The office also serves more than 5,000 UW undergraduates through its academic support programs.
The UW started the Graduate Opportunities & Minority Achievement Program in 1970 to support underrepresented minority graduate students. The establishment of ethnic studies programs and a women's studies program also laid the foundation for this work.
Last April, prompted by events around the country and concerns on campus, then Interim President Ana Mari Cauce invited students to talk about these issues. In addition to sharing her own experiences and pledging to redouble the school's efforts toward diversity, inclusion and equity, she asked for their help. "Look into your hearts and into your heads and analyze what's there," she said, launching the UW's Race and Equity Initiative. "You can get past your biases and really connect as equals … Your change can lead to a world of change for our community."
An increasing number of Americans identify racism as a problem. According to a recent Pew poll, six in 10 people say that the country needs to continue making changes to ensure that blacks have equal rights with whites. Five years ago, only 33 percent of Americans saw racism as a significant problem. Now, that number is closer to 50 percent.
"Trayvon Martin's murder—and the social media activism that followed—ushered in a different moment," says Ralina Joseph, an associate professor of communication who specializes in the representations of race, gender, and sexuality in the media. Today's students follow the news, she says. They know that black preschoolers are punished more harshly than their white classmates (a recent U.S. Department of Education report), that the white job candidate stands a better chance than the black (the National Bureau of Economic Research), and that there are profound racial inequities in our justice system (the Pew Research Center). "Students now are more radicalized than they have been since the 1970s," says Joseph. "We as faculty need to figure out how to support their activism."
Joseph, founding director of the new UW Center for Communication, Difference and Equity, explained at a recent public lecture that the black student experience is akin to being seated at the table for dinner, but never passed the plate. "This deep understanding of disparity is what inspired the student activists at UW and around the country—at Yale, Georgetown, Missouri and Western [Washington University]." Some members of the greater public may not understand how things like race-mocking costumes and buildings named for slave owners recall an ugly and violent history, but the students are making the connections.
What is the state of race and equity at the state's flagship university? For many students, their years in college are the time they will engage with more diversity than ever before. According to a 2014 report from UCLA's Civil Rights Project, U.S. public elementary through high schools today are as segregated as they were in 1968. And white K-12 students have the least exposure to other races. On the UW's campus in Seattle, 43 percent of the undergraduates self-identify as white (according to the most recent census, the state population is 72 percent white), 3 percent as black (the state is about 3 percent), 25 percent Asian American (7 percent), 1.3 percent American Indian (1.3 percent), 7 percent Latino (11 percent), and about 1 percent Hawaiian/Pacific Islander (.5 percent). International students make up about 15 percent of the undergraduates.
Inclusion, diversity and social justice have long been integral to the University's mission. Now, through the Race and Equity Initiative, the school is hoping to address its own issues as well give students the tools and resources they need to navigate this territory after graduation.
The purpose of the initiative is to build upon the UW's commitment to inclusion and social justice by seeking new ways to support and sustain diversity at the UW. By providing workshops, trainings and opportunities to discuss issues of race, equity and social justice, as well as examine and address systemic and institutional practices, the Initiative will contribute to improving the UW's campus climate.
The school has formed a bias response task force. At the same time, the Diversity Council, which was founded in 2001, is working to update the University's Diversity Blueprint, a planning tool for faculty, staff and administrators that will help them implement strategies that enhance diversity across the entire University.
Last November the provost's office produced a report highlighting some of the different projects at the UW that address bias and work for equity. Specifically, the report described work supporting undocumented students and UW Tacoma's efforts to increase college access in an ethnically diverse community with a high rate of high school dropouts and low numbers of students going to college.
That same month, more than 200 students gathered in the HUB to voice their continuing concerns to University administrators. In spite of the blustery weather, they packed the room. Some complained they were weary of constantly being called upon to take action and share their stories. They talked about being the only student from their racial or ethnic background in many of their classes, which put them in the position of being representatives rather than just being students. Others wanted the school to help diversify the predominantly white and male STEM (science, technology, engineering and mathematics) fields.
"We've had a challenging year across the country and on this campus," Ed Taylor, vice provost and dean for Undergraduate Academic Affairs, told the group. In the wake of that, it would have been easy for administrators to lay out an initiative and move forward, he said. Instead the UW administration invited students to work with them. "This isn't going to be an initiative right out of the box," he said. "We're going to build it and make it last."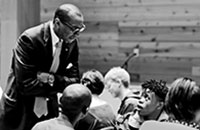 University leaders around the country are telling their students, "We hear you." But at the UW, they're also saying, "Tell us more." What started outside the HUB with picket signs and protests has evolved to include deep discussions over shared meals and a renewed effort to vet current programs and plan new ones. The UW Graduate School worked with the UW Alumni Association to put together an Equity and Difference speaker series that includes scholars, artists and opinion leaders like Harry Belafonte and cultural critic Touré. Talking about racism is a complex challenge, and the University is hard at work bringing the subject to the surface in myriad ways all across its three campuses.
On the academic front, the UW has some of the nation's leading scholars on issues of racism and culture. Over the decades they have produced a significant body of research on race and ethnic studies, unconscious bias, and the inequities of our justice system.
Associate Professor of Sociology Alexes Harris, for example, recently spoke at a White House forum on criminal justice reform. An expert in juvenile and criminal justice as well as social stratification and inequality, she is exploring how monetary sanctions as part of criminal sentences disproportionally affect already marginalized people. Her findings have been featured on National Public Radio, in The New York Times and in Mother Jones. In the past few years, local TV news has also sought her insight on the Starbucks race relations campaign and the protests and riots in Ferguson, Missouri.
Anthony Greenwald, co-author of Blindspot: Hidden Biases of Good People, has developed a tool to measure our own unconscious prejudices. The UW social psychologist and his collaborators at Harvard and the University of Virginia found than even people who explicitly deny prejudice could nonetheless carry unconscious bias toward categories like race, gender, sexuality and weight. The Implicit Association Test, where a test-taker responds to pictures and words, is now widely used in studies around the world. Greenwald also co-founded Project Implicit, a nonprofit collaboration that allows anyone to take web-based versions of the test to explore their own unconscious biases.
And just a few weeks ago Megan Ming Francis, an associate professor of political science, appeared on national TV to talk about the language used around lynching in America in the 1920s and how it relates to today's rhetoric surrounding Muslims. The analogy of "good" and "bad" black people and the suggestion that the bad should be persecuted is eerily similar to what's being said about now about another group, she points out. In a speech to students in December, Liberty University president Jerry Falwell Jr. said if more good people had concealed carry permits, "we could end those Muslims before they walked in." Rhetoric like this "… helps lead to a particular type of violence toward people," Ming Francis told MSNBC show host Melissa Harris Perry. "Oftentimes racism is used to stoke racial fears."
Meanwhile, UW law scholars, scientists and sociologists are looking at bias that permeates our lives around us from preschool to the judicial system (according to the Pew Charitable Trusts, one in 100 American adults are behind bars, but when it comes to black men, it's one in 12). A couple of years ago, a study by Janice Sabin of the UW Department of Bioinformatics found that pediatricians showed an unconscious bias toward European American patients over African American patients when prescribing pain medication. Shocking though that may be, Sabin found in another study that pediatricians display less unconscious bias than other doctors.
Findings that show the gross inequities are exactly why the #BlackLivesMatter movement is so important, says Nikkita Oliver, who completed her UW law degree in 2015 and expects to finish her masters in education this spring. "As a Black Lives Matter organizer, I'm constantly struggling to find a way to get people to understand why we use that particular phrase," she says. Yes, all lives matter, she says, but it's the black lives that are the most in peril. "It's about resisting a system that dehumanizes black people."
Oliver recently joined a teach-in at the Samuel E. Kelly Ethnic Cultural Center to explore advocacy for racial justice. "Seattle is a progressive city, but people here struggle with how to respond," says Oliver. "If you're not black, what do you do?
"Do some reading on what it means to be anti-racist," she says. "Get together with people who share your identity, meet in a safe space and have some conversations about what it means to oppose a system that targets your black and brown brothers and sisters. That's a starting point."
The UW is doing exactly that with quarterly conversations, inviting students back to the — Intellectual House to hear from President Cauce and then, at small tables with a meal in front of them, discuss topics around activism, expression, language and power. "I know that talk is not the same as action," Cauce told them this winter. "But talk is critical." The University needs to know more about what the students encounter in order to address racism and bias—whether from the institution, the faculty and staff, or from their classmates.
Many of the students hadn't met their tablemates before, but in a very diverse setting with classmates from a range of racial and ethnic groups, they eagerly and openly shared. Their conversations grew louder as the event wound down. "It was good," said one student as he packed up to leave. "But we could have gone for another hour."
With the Race and Equity initiative now fully underway, students, faculty and staff will have more opportunities to share their ideas and experiences, and to take action together. n—Hannelore Sudermann is Managing Editor of Columns.