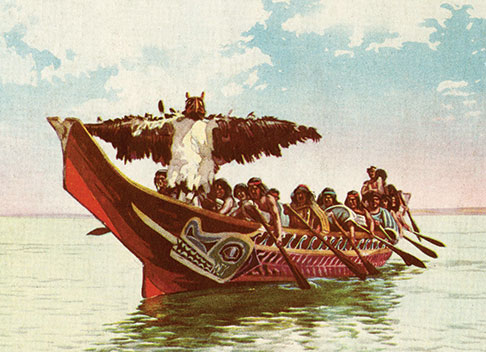 PAINTED DESIGN FOR A FILM POSTER, COURTESY UW PRESS AND THE BURKE MUSEUM (#1982-53/1).
'Real Indian Drama Enacted by Natives 'neath the Totem Poles of the North Pacific Shores'*
In 1914, most people in America were not terribly enlightened when it came to the way they looked at Native Americans. That year, the first feature film starring an "all Indian" cast made its debut: In the Land of the Head Hunters. A new book just published by UW Press, Return to the Land of the Head Hunters: Edward S. Curtis, the Kwakwaka'wakw, and the Making of Modern Cinema, examines the legacy of the film and offers perspectives on the unique collaboration between the tribe and the film's director. A discussion of the book, including footage from the film, will be held at the Seattle Public Library downtown on March 22 at 2 p.m.
*—From 1914 promotional poster