A New Take On Education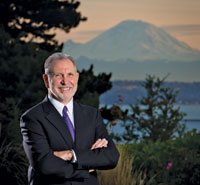 IN A WONDERFUL SCENE FROM "The Graduate," Dustin Hoffman's character, having just graduated from college, is advised to go into "plastics." That was 45 years ago and plastics have recycled.
Today, were there such a scene, a promising young graduate might be advised to go into STEM (science, technology, engineering, and math-related fields). You can hardly engage in discussions today about higher education without alighting upon STEM. Indeed, there is a clear and growing demand for more graduates from STEM fields—especially in computer science—and most universities are seeking ways to increase their capacities in these areas.
We are deeply committed to responding to that demand, and indeed, have done so with considerable success. The UW has increased annual production of STEM degrees at all levels by 48 percent over the last 10 years, compared to an increase of 26 percent in all UW degrees awarded during the same period. But, we must do still more.
Student demand for STEM programs—especially in engineering and computer science—still outpaces available slots, however business demand for these graduates is also almost limitless. We and our state's business owners, educators, and civic leaders all agree on the need to increase support for STEM education in order to cultivate a homegrown, highly skilled workforce. And given our level of efficiency in offering high level education, we could do more with even modest additional investment. For example, with just $6 million in additional state funding, we could serve as many as 500 additional STEM students.
No matter what their focus may be, however, students majoring in STEM disciplines or liberal arts are encouraged to enroll in a vast range of courses taught at the UW. Last fall, for example, multiple sections of an entry level computer science course had 3,750 students enrolled, two-thirds of whom were freshmen and only a fraction of whom will be computer science majors. A majority of the teaching assistants for this course are not even majoring in computer science—a surprising fact, until we remember most of our current students have grown up in the digital age, understand the importance of technology, and know full well that technology will shape their discipline, whatever it is, and their entire lives.
Conversely, we strongly encourage all our STEM students to range broadly across the social sciences, humanities and arts. And the results are spectacular: Well-rounded students who are technologically literate even if not technology or science specialists, as well as students who are broadly steeped in the social sciences and humanities, even if their principal focus is science or technology.
But our approach to undergraduate education goes even deeper and broader.
During this time when some are questioning the value of a college education, especially one grounded in the liberal arts and sciences, the UW is reimagining the whole core educational experience in order to prepare our students not only for a job after graduation, but more importantly, to equip them with broad skills to navigate our complex, ever-changing world.
The new holistic approach we are crafting is technology-based and disciplined-based. Students who are majoring in linguistics, archaeology, or social sciences, while developing considerable technology capacity to use in their disciplines, or computer science majors who develop an appreciation for the arts and history, are becoming critical thinkers as they process what they are learning and begin to understand the practical applications.
Across our Seattle, Tacoma, and Bothell campuses, faculty members are creating challenging interdisciplinary learning experiences to help students build the intellectual and collaborative skills that enable personal success.
One UW course dedicated to this approach is C21: The Center for 21st Century Liberal Learning in the UW Seattle College of Arts and Sciences. C21 is designed to produce self-directed thinkers who can connect and combine what they have learned, clearly communicate those insights and apply them to the world outside the classroom.
Exposure to a variety of experiences and opportunities across multiple subject areas helps students gain knowledge, learn about the complexities of the world around them, and identify and articulate how they add value. These skills are essential for all students, in every major, including those in the STEM disciplines. Washington's public colleges and universities have a long history of graduating excellent students in computer science and engineering who get top jobs in international companies, including Microsoft, Boeing, and Amazon, as well as at our region's growing number of start-ups.
With more students benefitting from our holistic approach toward a more comprehensive education, the University of Washington expects many of our non-STEM degree graduates to fill jobs at these companies as well.
Our graduates, are leaving the University of Washington as proficient, 21st century technically savvy individuals with a solid grounding in the liberal arts and sciences ready to change the world, as they have for over 150 years.


Michael K. Young, President