The first time I tried to climb Mount Everest was in the spring of 1987. It was a very different mountain then from the swarmed-over scene it's become today. By that spring, there had been only 209 successful ascents of the mountain by 191 different climbers. A single person, the Sherpa Sungdare, had reached the summit as many as four times.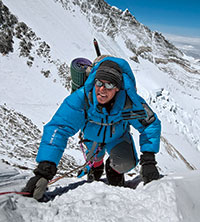 Jake Norton/Eddie Bauer/First Ascent
It's become almost impossible nowadays to keep track of Everest statistics, but by the end of May 2012, the number of successful ascents was in the vicinity of 6,000, performed by about 3,500 climbers. One indefatigable veteran, Apa Sherpa, has now reached the top of the world 21 times.
In the spring of 2012 there were more than thirty different expeditions simultaneously trying to climb Everest via the South Col route, the line by which it was first ascended by Tenzing Norgay and Edmund Hillary in 1953. I saw photos on the Internet of as many as 150 climbers on the Lhotse Face, lined up like Depression jobseekers in a free-lunch queue, as they jumared their way up the fixed ropes. In contrast, on the north side of Everest in the spring of 1987, there were only three teams. Ours hoped to climb the Great Couloir from the head of the Central Rongbuk Glacier. A Swedish team had chosen the traditional route from the North Col up the northeast ridge. And a Canadian, Roger Marshall, was attempting a bold solo ascent via the Japanese and Hornbein couloirs—a route nicknamed the Super Direct.
In 1987, I myself was a different person from the mountaineer who, eighteen years later, would become the first American to get to the top of all fourteen peaks in the world higher than 8,000 meters (26,246 feet). I was 27 years old, and though I'd climbed Denali in Alaska twice and had served for five years as a guide on Mount Rainier, this was my first expedition to an 8,000er. No matter how much I'd read about Everest, I was awed by the scale and majesty of the mountain, and not at all sure I was up to the challenge of scaling its north face by the Great Couloir.
The expedition was put together by Eric Simonson, a seasoned veteran who was also my fellow guide for Rainier Mountaineering, Inc. (RMI). Although Eric was only four years older than I, he had been guiding since 1973, and I looked up to him as a mentor. He'd already been to Everest in 1982, with a team led by our RMI boss, Lou Whittaker, that reached 27,500 feet on the same route—still 1,500 feet short of the summit. Eric had been hampered by a bad knee after a falling rock struck him high on this daunting face, and in 1987 he was determined to give it another shot.
Our expedition was a bit of a boondoggle, for a climber from Arkansas named Jack Allsup had approached Eric, offering to raise all the funds and pay all the expenses for five RMI guides, if we'd serve as glorified Sherpas for him and his buddies. The deal was that we guides would fix ropes, establish camps, and carry loads up the route, but not actually guide the Arkansas gang on their attempt—simply set them up so they could make their own independent push toward the summit. The official name of our team was the Arkansas Everest Expedition. Quite an irony: here I was, a guy who had escaped the flatlands of the Midwest to immerse myself in the rich Pacific Northwest climbing culture, only to be going on my first Everest expedition with a team based in the deep South!
I was grateful to be invited by Eric, who two years earlier had chosen me to serve his assistant guide on a traverse of Denali with clients. For Everest, Eric also picked my fellow RMI guides Greg Wilson, George Dunn, and Craig Van Hoy. A free trip to Everest! Who wouldn't jump at that opportunity?
Once our team was assembled, all five us plunged into gear selection and packing, but Eric took on the brunt of the logistical work. A smart, analytical fellow, he's good at that sort of thing. JanSport jumped aboard as an expedition sponsor, supplying clothing, tents, and packs. They also offered to have our high altitude suits custom-made by an experienced local seamstress.
I was pretty excited at the thought of getting a high-tech suit for an attempt on the summit. I imagined an extremely lightweight, trim-fitting down suit like the ones I'd seen Reinhold Messner and Peter Habeler wearing in photos from their pathbreaking climb of Everest without supplemental oxygen in 1978.
Only a day or two before we had to leave Seattle, Eric and I drove up to our seamstress's house to collect the suits. When I hefted mine, my jaw nearly hit the floor. The suits were filled with bulky synthetic insulation, and the outer fabric felt more like canvas than lightweight nylon. Unnecessary doo-dads such as stripes winding around the sleeves added another heavy layer to the already bloated suits. Rather than the sleek Maserati outfits I had fantasized about, we had no choice but to head off to Everest with these cumbersome monstrosities.
At the age of 27, I was just finishing my doctorate in veterinary medicine at Washington State University in Pullman, out on the state's eastern plains. I envisioned a career as a vet, although climbing was my true passion. To leave for Everest in March, I had to rearrange my senior year schedule so that I could graduate two months early. Fortunately, my classmates and teachers fully supported my "hobby," going so far as to buy expedition T-shirts. Still, in 1987 I could not have dreamed of making a living as a mountaineer. As it was, earning a modest income guiding Rainier in the summers, but pouring that money into my tuition bills, I was living as cheaply as I could, renting a room in the Seattle home of my buddy Steve Swaim, who ran his own veterinary clinic. Just before the expedition, a woman I'd been involved with for two years abruptly broke off our relationship. I was hurt and baffled, but in another sense, comfortable with the freedom that gave me. I was fresh out of school, with no full-time job or major obligations, so taking off to Asia for an indeterminate length of time didn't bother me one bit. As I wrote in my diary at base camp, "I guess my life's pretty simple & uncomplicated at this point—yahoo!"
The Mountain: My Time on Everest by Ed Viesturs is available at nine University Book Store locations and at ubookstore.com. UWAA members receive a 10 percent discount on eligible purchases.