Five UW researchers were named fellows of the American Association for the Advancement of Science: Francois Baneyx, Ann Bostrom, '83, Ferric Fang, Wim Hol and Charles Murry, '92.
Sandra Madrid, '80, '82, '85, received the 2013 Latino Heritage Award from the City of Seattle for her contributions to Seattle's Latino community. She spent 24 years as a faculty member and administrator at the UW School of Law before retiring in the fall.
The American Dental Association's top student researcher award went to Jonathan An, a third-year dental student. He received the ADA's Student Clinical Scholar Award for having the top paper in the Basic Science Research category.
The UW Microgravity Team has been selected to participate in NASA's 2014 Microgravity University Reduced Gravity Education Flight Program in June.
James Krieger, '89, clinical professor of health services in the School of Public Health, has been named an "Unsung Hero of Public Health" by the Campaign for Public Health Foundation. His work focuses on interventions to reduce health disparities in obesity, diabetes, asthma, tobacco and healthy eating.
The School of Nursing named Nancy Fugate Woods, '69, as co-director of the de Tornyay Center for Healthy Aging. She is a professor in the School of Nursing's Department of Biobehavioral Nursing and Health Systems.
Jeremy Clark, assistant professor of psychiatry and behavioral sciences, received a Presidential Early Career Award for Scientists and Engineers from the White House. His research has shown that teenagers' alcohol use can permanently alter decision-making through modulation of dopamine systems.
Mary Lou Mulfur became the 46th member of the Women's Golf Coaches Association Hall of Fame in December. Now in her 31st season as the Huskies head coach, she has led UW to 20 consecutive NCAA Regional appearances and nine berths in the NCAA finals.
Law Professor Jackie McMurtrie, who heads the School of Law's Innocence Project Northwest, received the William O. Douglas Award from the American Civil Liberties Union Washington chapter in honor of her 20 years of work on behalf of wrongly convicted individuals.
Computer Science and Engineering Profesor Rajesh Rao has been named director of the National Science Foundation's Engineering Research Center for Sensorimotor Neural Engineering. The center is based at the UW.
Courtney Thompson, '05, a three-time All-American volleyball player who led the Huskies to the 2005 NCAA championship, became the UW's first female student-athlete to have her jersey retired.
Ed Crow, '96, was named Washington State Assistant Principal of the Year. He is assistant principal at Hazen High School in Renton.
Jeanna Lee, '10, was part of a 63-woman team from around the world that set a world record for all-female vertical formation skydiving in Arizona.
Rene Levy, professor and chair of the Department of Pharmaceutics in the UW School of Pharmacy, received the William G. Lennox-Cesare T. Lombroso Award from the American Epilepsy Society. Levy is a pharmaceutical chemist and the developer and director of the UW Metabolism and Transport Drug Interaction Database.
Robert Osborne, '54, will mark his 20th anniversary as a host on Turner Classic Movies in April. Osborne has been a writer for The Hollywood Reporter since 1977. In 2006, he received a star on the Hollywood Walk of Fame.
The UW ranked 13th on Kiplinger's annual list of 100 public colleges that offer the best value for the money. Last year, the UW was 18th.
The Jackson School of International Studies is offering a new intensive master's degree option beginning in Fall 2014. The 10-month Master of Arts in Applied International Studies degree is for professionals with a bachelor's degree and at least five years experience in such fields as philanthropy, business, military affairs or government.
To fight the increasing toll of dementia as a chronic disease that is increasing with the aging of baby boomers, the UW Medicine Memory and Brain Wellness Center has opened in the Senior Care Clinic at Harborview Medical Center.
In Tune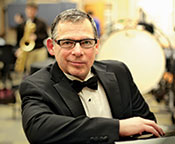 The cool cat in the tux responsible for turning the Roosevelt High School jazz band into a national powerhouse is none other than Jazz Band Director Scott Brown, who marks 30 years at the North Seattle school this year. Roosevelt's jazz players have won the prestigious Essentially Ellington competition in New York City three times since 1999. No wonder Brown was just inducted into the Earshot Jazz Festival Hall of Fame. "Coming out of the UW into my first and only teaching job at Roosevelt," says Brown, '82, "I could not have possibly imagined the amazing journey that it would be. From friendships to international tours with great music-making throughout the years, I'm still loving it and finding the magic from day to day."—
Julie Garner
Tuning In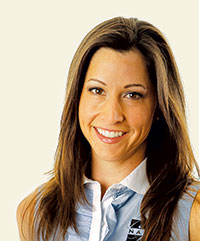 She can handle a 9-iron like nobody's business and now she has added a microphone to her repertoire. Paige Mackenzie, one of the best women's golfers in UW history, has signed on as co-host of the Golf Channel's "Morning Drive" TV show. While still continuing to play a full LPGA schedule, Mackenzie, '06, will also offer commentary on "Golf Central," report from select events and conduct in-depth interviews with fellow players. The former three-time All-American from Yakima, who has a degree in business, has always had her eye on being on TV, and would love to host a show about finances à la Suze Orman. Still, being a rookie on TV is a little like lying in the rough. "I am finding out that this is very similar to golf—there is no perfect," she says. "But I am enjoying this more than I thought I would. I can see doing this when I am done playing."—
Jon Marmor