New in Columns:
UW mountain climbing legacy
belongs to those bold, strong and determined enough to push the limits; a UW professor's quest to save
Ladino,
a language on the brink; Jennifer Stuber lost her husband to
suicide
. Now she's working to remove the stigma of mental illness; Haunted by the deaths of two soldiers in a bunker he designed, Rich Kirchner returns to
Vietnam
.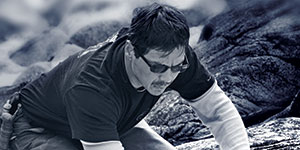 Sven Haakanson builds a bridge between the ancient world and the contemporary one.
Read more
.
Flip through the
entire issue
online using our new digital magazine software. You browse through the pages just as you would the printed version.
Browse by Year
---