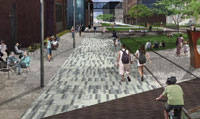 The final designs
for the UW Tacoma section of the new Prairie Line Trail, right, have been unveiled. The trail will redevelop an unused railroad spur that runs through the heart of the campus into an active, open space for the community. The city plans to eventually continue the trail to the waterfront. Construction is expected to begin this spring.
Cedric Howard, UW Tacoma's vice chancellor for Student and Enrollment Services, was presented with Weyerhaeuser's 2012 Living the Dream Award for his work in the Tacoma community.
UW Tacoma and the YMCA of Pierce and Kitsap Counties are collaborating to build a full-service YMCA located on the UW Tacoma campus. The new facility will serve UW Tacoma students, faculty and staff, as well as all YMCA members.